Venice and Florence--adventures in Italy
December 08, 2004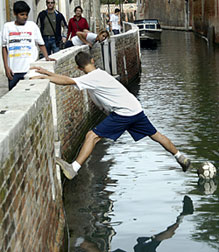 People find living in Venice, Italy quite challenging. Over 100 canals link 117 small islands. Floods caused by high tides regularly inundate the area.
But when the weather cooperates, the secret to discovering the beauty of Venice is to walk. One easily may lose oneself for hours in the narrow winding lanes and alleys, reportedly 1,000 of them. Every glimpse of a craft lazily bobbing in the water evokes a romantic poem. Paths take the visitor to unexpected courtyards where an outdoor cafe beckons him or her to sit, sip a drink, and wait.
The city is divided into 6 sestieri (quarters). One may walk on a calle, ruga, or salizzada or a street beside a canal called a fondamenta. A canal is a rio. A quay is a riva. The main square (San Marco) is called a piazza; the remaining squares are called campos. It is important to keep this in mind as an explorer lost in the maze with the only map from the closest vendor written in Italian.
After hearing that Venice might be considered the most expensive city in Italy, my traveling companion and I decided to stay overnight along a bus route about 35 minutes away. We were fortunate to have been steered in the direction of the Hotel Il Burchiello by a tourist official at an information booth on the autostrada outside of Venice. She made reservations for us at this 4-star hotel with a special discount. Supper at the Alla Vida the second night near the hotel also was quite pleasant.
Venice has a McDonald's but the most interesting place to dine is in an open-aire restaurant alongside one of the main canals. Passing by are vaporetti (water buses), gondolas, and occasionally a fire or police boat that races along tipping everything in its wake. Cargo must either be transported via the canals or carried by hand; other than a vehicle that floats, no other motorized vehicles are allowed.
Next stop
Florence was a bit of a disappointment in comparison to Venice. No attempt seemed to have been made to keep Florence clean. A layer of grit and grime seemed to cover most surfaces and to dance in the air. A person either could be showered from above--pigeons were prolific--or one had to be careful where one stepped. Italians, like most Europeans we found, love their pets, especially very large canine breeds.
Beggars of varying nationalities were everywhere. Making eye contact was a mistake. But who had money to spare with mostly everything in the city highly priced!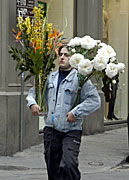 Flowers are an important aspect of Italian life. Grown in hot houses that are built like steps in the hilly areas outside of the major cities, they are provided fresh daily and may be purchased at many market stalls. Tourists dining outdoors especially seem to be the target of itinerant pedlars pressing not quite as fresh flowers on "loved ones".
Unlike most statuary, the original "David" has been spared the indignity of the outdoors. Michelangelo's masterpiece is now safely indoors at the Galleria dell'Academia, but itself a somewhat non-descript building when compared to the Duomo, one of Italy's most famous monuments that dominates the Florence skyline.
Aside from the disheartening aspects of the city, Florence has an impressive artistic heritage with most creative achievement housed in the Galleria Palatina located at the Palazzo Pitti. The Cradle of the Renaissance, the city was home to Michelangelo and such artistic and historical figures as Dante, Machiavelli, and the Medici--all whose influence is evident.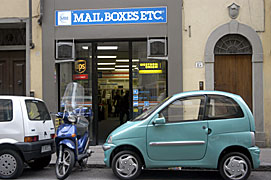 Many familiar American companies are located abroad. But what isn't recognizable is the 2-seater Smart car, a brand of Daimler Chrysler. Just last month it was approved for sales in the U.S. Zap, a northern California company, will modify the car to meet U.S. crash and emissions standards and hopes to sell at least 15,000 cars a year. Zap claims the car will get 60 miles per gallon. Motorcycles and cars like the mini Mini Cooper also are popular forms of transportation abroad where the price of fuel is very costly and parking spaces few and far between.
Attracting a majority of the tourists is the Ponte Vecchio, a bridge that spans the narrowest part of the Arno River. A plaque on the bridge describes its history: Dating from 996, it was ruined by floods and collapsed several times. Rebuilt in 1345, it has survived to the present day. The peculiarity of the bridge comes from the small projecting shop windows that have featured jewelry since the sixteenth century. The bridge was spared during the August 1944 bombing raids even though areas at either end were destroyed.
No mention was made of why there were locks fastened to an iron railing around a statue on the bridge. It obviously was a much more expensive way of summoning good luck, if that was what each lock did, than tossing pennies in a fountain. (Perhaps, some kind reader will provide the answer to this mysterious activity.)
Most memorable was the train ride into Florence from a place called Vaglia, a mountain town, where we were staying overnight. A local, speaking no English, showed us how to put our tickets into a slot in a box on the platform to summon the train that had signaled us from down the track.
We seemed to be the only guests at the Hotel Padellino, whose saving grace was that it was steps from the train station. Both were located at the end of a hilly road not immediately evident to non-locals.
Short stop in Pisa
After being advised by a female police officer, the only one of the trio who understood English, that we were illegally parked, we returned to our rental car in search of a space allocated to tourists. Of course, we could easily have pulled into the parking lot immediately opposite where the famous Leaning Tower was located, but we were thrift-conscious, insisting on finding nearby one of the precious blue parking spaces (blue for visitors, yellow for residents). Each pass around the area wasted precious diesel until we finally left a final glimpse of the tilting campanile behind in the dust.
Next stop is St. Paul de Vence, France. Enjoy the pictures from Venice and Florence. Click on each thumbnail for a larger picture.