Combat Meth Act hits congressional hoppers
February 01, 2005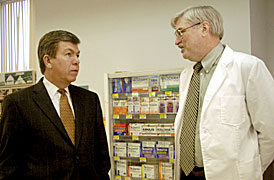 Standing in front of a locked cabinet containing pseudoephedrine drugs at Smitty's Grocery and Pharmacy in Joplin is Rep. Roy Blunt (left) and John Evans, one of Smitty's pharmacists. According to Mike Chambers, Smitty's store director, customers have to make a request to purchase one of the products.
Legislation, with a focus on protecting innocent children, has been proposed in both houses of Congress that is meant to stem the growing methamphetamine scourge in the U.S. Up to $5,000,000 would be set aside in the House version of the bill as grant funding for the development of Drug Endangered Children rapid response teams to promote collaboration among federal, state and local agencies to assist meth's youngest victims, those children found living next to meth labs. The Senate version of the bill promoted by U.S. Senators Jim Talent (R-MO), Dianne Feinstein (D-CA), and Chuck Grassley (D-Iowa) is 50% less generous.
"Access to common cold medicine can be a meth cook's dream come true," said House Majority Whip Roy Blunt, one of the main sponsors of H.R. 314, the House version of the Combat Meth Act. "The most effective way to fight the meth epidemic is to make it harder for criminals to get the key ingredient in the production of this deadly drug. At the same time, this legislation ensures that honest people can easily get the medicine they need."
Pseudoephedrine, the key ingredient in the manufacture of meth, is found in many over-the-counter medicines, most notably in Sudafed 12 hour caplets where it is the active ingredient. Blunt's bill would classify pseudoephedrine as a Schedule V drug, which means that products containing it would be kept behind pharmacy counters and sold only by pharmacists or pharmacy technicians. The legislation also would require that purchasers of the drug be identified and that its sale be limited to the purchase of 9 grams a month or three normal sized boxes of the product.
Crossing state borders
The impetus for federal intervention is the fallout from state legislation that forces illegal meth activity across its borders to states without similar law. "I'm all for leaving the legislation up to the states," Blunt said, "but not driving the problem over a state border."
Part of an upsurge in meth activity in Missouri may be attributed to the Trooper Nik Green, Rocky Eales, Matthew Evans Act (H.B. 2176) passed in Oklahoma in the spring of last year. The genesis of the bill was the murder of three state troopers encountering suspects allegedly involved in the manufacture of meth. In addition to making pseudoephedrine a Schedule V substance, the bill in Oklahoma creates tougher punishment for persons arrested and convicted including the possibility of denial of bail and more stringent prison terms. In addition, possession of any amount of anhydrous ammonia in an unauthorized container or the possession of three or more meth precursors in any detectable amount shall be considered evidence of intent to use such substances for illegal means.
The Oklahoma State Bureau of Narcotics and Dangerous Drugs Control currently is trying to address the issue of accountability. The bureau wants to create a centralized computer database that will monitor sales of pseudoephedrine to insure that the individual purchaser not exceed the monthly limit of 9 grams. Of course, this would mean that all sales outlets be hooked into the system.
Legislation that works
A statement by the National Association of Drug Stores of Alexandria, VA, claims that Oklahoma law "appears to be working, not because it makes pseudoephedrine a Schedule V controlled substance but because of other provisions in the bill." NACDS, with a membership consisting of more than 200 chain community pharmacy companies operating over 33,000 outlets, encourages states to impose necessary restrictions and penalties upon those arrested for and/or convicted of methamphetamine-related offenses but not to impose unnecessary paperwork and procedures upon pharmacists and their assistants. "Time spent tracking cold medicine sales is time not spent practicing pharmacy," NACDS said.
Wal-Mart's company statement includes the assurance that it supports efforts to curb the problem of meth and adheres to local law enforcement practices, but company policy keeps convenience and welfare of its customers in mind. A spokesperson for the pharmacy division, had to admit that anyone could purchase three packages of the product at one time, Wal-Mart's limit, but there was nothing stopping that person from re-entering the store and purchasing three more packages at a different register or a different store location. [K-Mart failed to respond to a request for their policy. For Target, see forum comment.]
Like Wal-Mart's policy, John Evans, a Smitty's pharmacist, did not think that making pseudoephedrine a Schedule V drug was the answer, but instead he called attention to the dangers in the drug's unrestricted use. "I would like to see the Federal Drug Administration step in and make it a prescription drug again," he said. And many physicians seem to agree that the use of oral and topical decongestants, like Sudafed, is inadvisable for patients with heart disease, hypertension, thyroid disease, diabetes, male prostate conditions and women who are pregnant.
Another means of purchase seemingly not addressed is the use of the Internet. While Canada's largest mail order company, CanadaPharmacy.com, limits the purchase of 100 120 mg. tablets of Sudafed to one per order, as just one example, CVS, a domestic online pharmacy, that sells in quantities of 20, does not seem to impose a limit. (It should be noted that it is illegal to re-import prescription drugs across the border--refer to the Federal Drug and Cosmetics Act, but that's another story altogether.)
While Blunt would not admit that passage of this legislation would be easy, he did suggest that it might force a change of formula by drug manufacturers. In addition, he would like to see continued voluntary cooperation amongst retailers in implementing efforts to restrict suspicious sales, including selling pseudoephedrine by request from locked cases.
Blunt introduced his bill at a press conference yesterday held at Smitty's Supermarket and Pharmacy, 1850 Maiden Lane, Joplin. It was attended by the media and local law enforcement officers showing solidarity for the bill.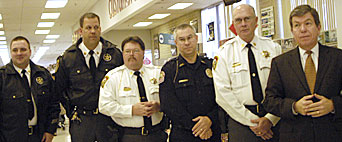 Rep. Roy Blunt (R-MO), far right, in Joplin unveiled legislation he sponsors that in part would combat the production of methamphetamine by moving pseudoephedrine, the primary ingredient in making the illegal drug, behind the pharmacy counter. Standing with him from L-R are: Lt. Derek Walrod, Capt. Jerry Gilbert, Chief Deputy Kelly Stephens, Joplin Police Chief Kevin Lindsey, and Jasper County Sheriff Archie Dunn. Present but not pictured are Jasper County Prosecuting Attorney Dean Dankelson, Missouri Highway Patrol Sergeant Kent Casey and Missouri Highway Patrol Corporal Dennis Kuechler. Provisions of both Congressional bills would allocate funds to assist law enforcement in attacking the meth problem.
Other articles include:
Child Advocacy Forum addresses meth issues