Learning begins at birth
February 23, 2005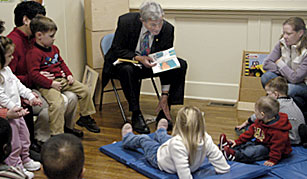 With two Dr. Seuss children's books in tow, Missouri Senator Kit Bond came to the Parents as Teachers (PAT) center in Neosho today to entertain a group of toddlers and as part of a statewide tour to tout his proposal to reintroduce federal Parents as Teachers legislation.
If passed in 2005, Bond's Education Begins at Home Act would provide federal funds to support PAT expansion at the local and state level. He is asking for $500 million in federal funds over 3 years to expand services to over 2.7 million families nationwide, ten times more than currently served. $50 million of that sum would be earmarked to PAT in communities with limited English proficiency and another $50 million to address the needs of children of military personnel.
Developed in the 1970s in Missouri, PAT was the brainchild of early childhood professionals who saw a need for a program to help parents understand how encouraging their children's development from birth on leads to greater success in school and consequently in life. Involving parents in the development of pre-school skills was considered a way to establish more uniform reading readiness and insure greater academic success for children entering kindergarten.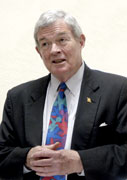 Senator Christopher "Kit" Bond is a strong supporter of education having introduced numerous bills funding educational services. A 1960 graduate of Princeton University and a 1963 graduate of the University of Virginia Law School, Bond is a life member of the Parents as Teachers Board of Directors.

While serving as Missouri governor in the early '80s, Bond helped to expand the pilot project statewide. From an initial project for 380 families of newborns in just four school districts, through passage of the Bond-supported state version of the Early Childhood Education Act PAT became a part of every school district in the state. Currently, Missouri leads the nation with 565 program sites.
"My son Sam was born in '81," Bond said. "He was our own little practice system," referring to his first-hand experience with the program.
Bond said his son was 24 now. Sam's off to Vietnam [an obvious Freudian slip]...Iraq, Bond corrected himself, proud of his son's accomplishments.
PAT's goals fostered through home visits include improving parenting practices and in detecting possible developmental or health issues. Paramount also is the need to prevent child abuse and neglect that leads to anti-social behavior.
"Head Start [alone] was not making progress," Bond said. "Home visits are important in finding learning developmental problems early."
The Neosho Parents as Teachers, according to Bond, is a model that "we are trying to get nationally". Two aspects of their program is that they have great collaboration with Early Head Start and that they deal with families where English is not their language or is a second language, he said.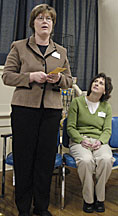 Lori McFerron, standing, addresses an audience gathered to hear about the Parents as Teachers program. Seated is Carla Godfrey, PAT Coordinator in the Neosho headquarters at 201 N. Wood St. The Neosho PAT policy is not to create a waiting list for services but to integrate any family that applies into the system. Currently they serve 700 children, 350 aged 1-3 and 250 aged 3-5.

Lori McFerron, a PAT staffer, said she was pleased over the response she is getting from the Hispanic population. Communicating with parents through the Spanish she learned as a student at Missouri Southern State University, McFerron said she has provided them with help in many aspects of child rearing.
"They are excited over the things to do, even though they don't speak English," McFerron said of the large number of her clients struggling to adapt to their new environment. She included in the total Pacific Islanders, whom she said were 2% of the local Neosho population struggling to communicate.
While Bond joked that "Dr. Seuss is always a challenge," getting his legislation passed to expand the PAT program nationwide may be a greater one. His similar legislation died in committee last year. Congress, it seems, needs to have a longer attention span in considering the re-introduced version than the pre-schoolers needing their help.
Bond hopes to have broad bi-partisan support for his bill. "It makes more sense than Dr. Seuss books," he said.
For more info about PAT, click here.