Harold McCoy honored at retirement party
February 28, 2005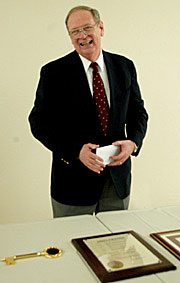 The real McCoy, a "genuine article" is the description given to Harold McCoy by well-wishers who gathered at Joplin City Hall today. Citizens and city employees were present to honor McCoy who is retiring after 46 years in various roles in city government.
"Harold, you were the heart of the city," said one of McCoy's staffers. The comment came after Mayor Phil Stinnett presented McCoy with the key to the city, saying that it represented the heart of its citizenry. The mayor also declared February 28 as Harold McCoy Day.
An employee gave McCoy "Maui Revealed," a guidebook that served as a not so subtle suggestion for how to spend some of his retirement. Senator Gary Nodler who signed the Senate Proclamation citing McCoy's accomplishments wrote that McCoy's retirement should be an "opportunity to enjoy better things life has to offer."
Congratulations that filled a memorabilia table in part came from Senator Kit Bond, Rep. Roy Blunt, local members of the House of Representatives, and the American Public Works Association. In addition Joseph Mickes, a former district engineer couldn't help but roast McCoy for one of his decisions as director of public works that affected the removal of snow. It seems that McCoy, according to Mickes, chose to have the snow plowed to the middle of the street. Apparently, McCoy, thinking only of not blocking in the parked cars hadn't anticipated that the snow would freeze causing an icy barrier to form in the middle of the road.
Mary Ann Phillips, Recycling Coordinator, says she will pay tribute to McCoy long after he has gone. Every visitor touring the recycling center learns from Phillips of the role McCoy played in the purchase of their glass crusher.
"I told Harold I had never heard of such a thing, never observed one at any recycling center, never saw one at any trade show, plus had never read about one in any of the trade journals," Phillips tells everyone. But Harold knew about it, she had to finally admit. Because of McCoy's diverse knowledge, she was able to order a crusher that the department is using to this day.
Local boy makes good
McCoy, a 1957 graduate of Joplin High School, was offered a job in September 1958 as a draftsman in the engineering division of the public works department. He worked up through the ranks of the department, first becoming assistant city engineer, then assistant director of public works, and in 1977 its director.
Since 1983 he served four times as interim city manager, an appointment last year that covered a ten-month period. Finally, in November 2004 he was named assistant city manager.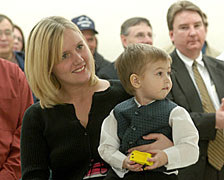 Harold McCoy's relatives, citizens, and employees proudly watch as the Joplin assistant city manager is honored for 46 years of service in various roles of government. Seated is Kadin, McCoy's two year old great grandson. A retirement party open to the public was held in the lower level of the Newman Building, Joplin's new City Hall. February 28 has been proclaimed Harold McCoy day by Mayor Phil Stinnett.

During his career McCoy was instrumental in the development of Rte. 249 (Rangeline Bypass) and extensive wastewater treatment plant projects including the construction of two modern facilities that have been recognized by state associations as providing high quality service. In addition he initiated the franchising of the solid waste collection in an effort to reduce the citizens' rates for this service.
Most recently, he guided the transportation task force in their review of road improvement needs. With their recommendation, the City pursued and passed a 3/8 cent sales tax estimated to provide $38 million for 19 identified projects.
Working with state and federal legislators, McCoy also played a key role in the ongoing development of the Joplin Regional Airport. He considered projects such as modernizing the airport and addressing other infrastructure needs important stimuli to economic growth. During the 46 years that McCoy worked for the city, Joplin grew from a city of 17 square miles to over 40 square miles.
He and his wife Barbara have three grown children, four grandchildren and one great grandchild. He has not been specific about his retirement plans other than saying that his daily routine will not include a nice drive through Joplin ending at City Hall.
---
Photos by Vince Rosati
---
To view these pictures, click on each thumbnail for a larger version.