Has anyone seen this woman?
March 09, 2005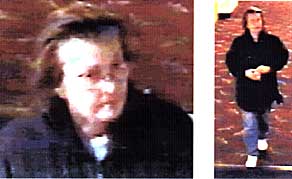 Video cameras in Fitzgerald's Casino in Tunica, MS record the image of Norma "Dale" Massa. That was December 13, 2004, an unlucky day for Massa's daughter Laura LaScola who since has been trying desperately to find her mother.
Apparently, although Massa was seen in the bus loading area, she never boarded the return bus to Memphis, TN where she lived at St. Peter's Manor.
Law enforcement have come up empty trying to locate the missing woman whose short term memory loss due to a stroke may have contributed to her disappearance.
LaScola, who has hired a private detective to help in the search, has refused to leave any stone unturned.
"It is possible that she boarded the wrong bus. " LaScola said. Because Joplin has a scheduled trip or stop from Tunica, LaScola was hoping an article would attract the attention of someone who might have seen her mother or who has any information leading to her discovery.
Last seen, Massa was wearing an above the knee black jacket, blue jeans, white tennis shoes, and carrying a dark medium- sized purse with a long shoulder strap. She may have been carrying a Fitzgerald's Casino t-shirt. She is 66 years old, 5'4" tall, and weighs 140 lbs. She has medium brown and gray shoulder length hair and she wears glasses.
If anyone has any information leading to Massa's discovery, please call Eyewitness Investigations at (901) 277-3937 or send an email.