House Republicans favor repeal of death tax
April 13, 2005
WASHINGTON -House Majority Whip Roy Blunt today praised passage of H.R. 8, the Death Tax Repeal Permanency Act of 2005, which garnered a vote of 272-162. Kenn Holshof (R-9) had introduced the legislation which now moves to the Senate for consideration.
All 230 Republicans who voted on the bill cast favorable votes. They were joined by 42 of the 202 Democrats who voted. That left 160 Democrats who voted unfavorably.
"Today we put some certainty in estate planning for family businesses and small farms," Blunt said. "The House moved to abolish the death tax, which penalizes savings and hard work."
Added Blunt: "The death tax is an unfair double taxation that targets the backbone of the American economy: small businesses and family farms. I'm calling on the Senate to move quickly to send this repeal to the president for his signature."
---
News Update: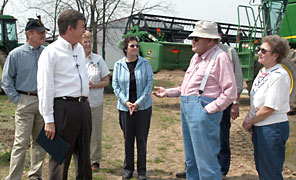 (Photo by Vince Rosati) Congressman Roy Blunt held a news conference April 15, 2005, concerning legislation that recently passed the House that would permanently eliminate the death tax. Gesturing to Blunt is John Larson with Lena, his wife by his side. They are owners of a farm on state highway 96 in Webb City. Standing in the background with a neighbor are their children, Mark and Kim (blue jacket) Larson.
The point that Blunt was making was that even though the children work the land alongside their parents, they still would be hit with a huge estate tax on the farm. Use of farmland for non-agrarian purposes has driven up its value creating a tax bill for heirs that often requires sale of the farm to satisfy. Blunt wants to put some certainty in the future of family farms by the passage of legislation that would lessen this tax burden. Unfortunately, he isn't very optimistic that the Senate will rubberstamp the House's bill which repeals the tax altogether before it again becomes effective in 2011.
Larson spoke about how many farmers form a strong attachment to the land and want nothing more than to see their heirs take it over. "What we accumulate in our lifetime, we pay taxes on," he said. "It's not fair to pay taxes again." He also said that as farmers coveting the land, "we'd fight tooth and nail to keep it.
---
Permanent elimination of death taxes is a top tax priority of the American Farm Bureau Federation, according to a statement by Bob Stallman, president of the American Farm Bureau Federation. "Families own 99 percent of our nation's farms and ranches, and unless the death tax is permanently repealed, many of these family businesses will be endangered as estate settlements require selling land and assets to pay taxes."
Small, family-owned businesses are especially vulnerable to the death tax because most small business owners have the entire value of their businesses in their estates. More than 70 percent of family businesses do not survive to the second generation and 87 percent do not survive to a third generation, Blunt added.
According to the National Federation of Independent Businesses, one third of small business owners today will have to sell outright or liquidate a part of their business to pay death taxes. Half of those who must liquidate to pay the IRS each will have to eliminate 30 or more jobs. Blunt believes that repeal of the death tax will cost the economy up to 250,000 jobs a year.
Congress passed tax relief in 2001 that phased out the estate tax and cause it to be temporarily repealed in 2010. However, the repeal included a sunset provision that would re-impose this tax after 2010. H.R. 8 will make the repeal of this tax permanent law.
The House of Representatives has approved a permanent elimination of the death tax several times in the past. Former President Bill Clinton vetoed legislation to permanently ban the death tax in 2000. Unfortunately, the House of Representatives failed to override his veto by only 6 votes. In 2003, the bill died when the Senate failed to take action on it before the conclusion of the 108th Congress. According to some observers, this may happen again.