Citizens' battle against MoArk expansion wages on
May 29, 2005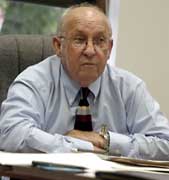 Jerry Carter, Newton County Commissioner--
The Southwest Missouri Citizens Against Local MoArk Expansion had all the time they needed to present their case to members of the Neosho County Commission at its last meeting, May 26, 2005. At least that's what Newton County Presiding Commissioner Jerry Carter told them over and over again. They could take all day, he said.
What Carter didn't tell them was that the commission had already made up its mind. He actually egged them on by the contradictory comment, "You don't know where we stand."
But Buzz Ball, editor of the Neosho Daily News knew and everyone else who read his report. In a by-lined article ["First step--Moark to expand Neosho operation," Feb. 18, 2005] Ball outlined MoArk's plans for expansion. He used terms like "state-of-the-art, "renowned" and "improved" to describe the egg-laying facility, accolades that were taken almost verbatim from MoArk's release, "Planning the Future."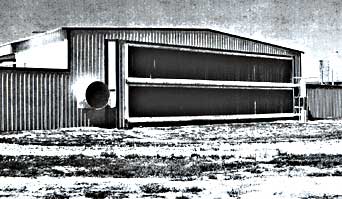 In a presentation at Crowder College, Neosho, on April 6, 2005, MoArk used this picture of their Roggen, CO House #6 as an example of what they consider to be a "state of the art" hen-laying facility. MoArk proposes to construct 16 such houses with 200,704 hens per house on 200 acres at the southeast corner of Highway D and Mallard Rd, also known as Hathaway Farm. They plan to use 190,416 gallons of water on average daily once Phase I and II are completed.
Their operation and maintenance plan presented to government officials calls for daily mortality to be removed and placed into dumpsters for disposal at the landfill, monthly reviews and testing of air quality to monitor ammonia concentrations, and the transportation of at least 90% of the manure generated out of the Elk River watershed. Currently they claim to have agreements with several large farmers and one large farmers coop to market and apply the litter within a 100 mile radius of Neosho; some of these they say are located in Oklahoma and Kansas.
---
"This is bizarre," said Craig Volland, Confined Animal Feeding Operations Committee Chair for the Kansas Chapter of the Sierra Club. "The local watershed gets contaminated under the MDNR's nose; then they say it's okay to add millions more chickens to the 1.3 million already there, as long as you ship the waste to another watershed or another state. We will be asking the Kansas Dept of Health and Environment and the U.S. Environmental Protection Agency to investigate."
---
Pictured at the top of the article were about three dozen smiling "members of the Neosho community" in an obvious demonstration of support for the purported $10 million MoArk expansion. Jerry Carter was among them.
And although Lee Van Otterloo, one of the anti-expansion advocates, after a bit of discussion asked Carter to make the newspaper retract his show of support, Carter in one breath said, "I work for you guys" and in the other refused Otterloo's request arguing that he couldn't retract everything that was incorrectly published.
Did this smokescreen fool the group tightly wedged in the council's chambers? It didn't fool Everet Bussey who lives one mile from the MoArk plant, and it didn't impress Becky and Dave Boyt whose residence is within a three mile range. All have firsthand experience with the violations that the Missouri Department of Natural Resources recorded against MoArk.
"We don't need any more environmental degradation," Becky Boyt told the commission. An advocate of humane treatment of animals, she called attention to their having to "put up with dead chickens" on their property, "trucks speeding away regularly," and their well running dry in the summer.
She was agreeing with the Humane Society of the U.S. when it urged Neosho County, KS officials to reject MoArk's proposal to construct a facility housing 2.6 million hens within their jurisdiction. The only difference was that those officials listened.
While Dave Boyt argued that welcoming MoArk's expansion would "close the door on clean industry like the float tourist industry," Becky Boyt said that any further employees who would be hired at minimum wage would be "a net drain on community resources."
A letter animal advocate Miyun Park wrote to a Kansas county commissioner said in part:
Neosho County should not be misled into believing that this translates into a large number of jobs. Since most every aspect of egg factory farming is automated, most of the jobs such a facility will bring are low-skill with high turnover rates.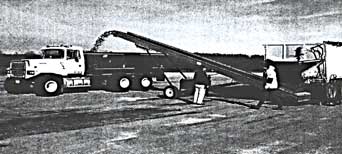 Although MoArk claims that they will be loading manure onto delivery trucks inside manure barns large enough to hold over three months of manure at a time, in their Crowder College presentation packet they included this picture of an open-air transfer which they titled, "Manure Usage..."Valuable Nutrients"...Hauled out of Sensitive Watershed." Their manure handling also included "storage in close proximity for 320 days." As a result of the new facilities they claim "less odor," not no odor and describe a "belt battery system" that "transports the droppings out of the house approximately three times per week" onto "another enclosed conveyor which transports the material into an enclosed storage building". The litter that they say will be "trucked out to the farm fields" will be dry and of "minimal odor."
The presentation that was made to government officials included a 2002 census of agriculture statistics for Newton County. It showed that the 79,015 cattle and calve population that year created a manure production of 4,977,945 pounds daily, most of which stayed in Newton County. That statistic and a report showing the significance of agriculture to the economy were factors that MoArk considered significant in selling their expansion project.
In explaining the commission's powerlessness in presenting this issue to a state agency, Carter said, "We're like beebee guns compared to the Howitzers of the General Assembly." And similar to Mayor Birdsong's statement regarding a potential water crisis, Carter told the group that the commission was "not qualified...competent in the areas you discussed."
The aging commissioner seemed resigned that the "days were over when you could punch a hole in the ground and get untreated water." He also believed that any shortage of water could be alleviated by the creation of small holding lakes along streams. But when Adams questioned how much he thought it would cost to treat the water from these lakes from MoArk run-off, Carter had no response.
Carter also told the group several times that he thought S.B. 187 would pass during the next session of the General Assembly and severely limit the power of county commissions. Apparently, he hadn't considered that the law's failure was due to disagreements over the wording of a House amendment to the law that addressed environmental issues concerning CAFOs and that language might again be re-considered. The reference appeared to be Carter's attempt to confirm to the group that they simply were addressing, as he put it, a "road and bridge building county commission" soon to lose even more power.
"Over 100 years," according to Carter, "Newton County has raised hogs and cattle without regulations, much oversight, restrictions or control.""I can't say whether good or bad." But he added, "would that several years ago...30 or 40 years ago...you came with the same passion. We wouldn't be here today."
"Then was then, now is now," was Mark Adams' retort. Had the commissioners had the health of its constituents in mind rather than big business, they already would have passed a county ordinance establishing health regulations for CAFOs, Adams said. He was referring to a Linn County ordinance upheld by the Missouri Court of Appeals Western District on November 23, 1999, which restricted the establishment of an 18,000 hog finishing operation by Jeremy and Janice Borrons.
A public meeting with the Missouri Department of Natural Resources regarding the MoArk CAFO expansion will take place on June 8, 2005, in the Elsie Plaster Hall at Crowder College, Neosho. Informal discussion will be from 6-8 p.m. From 8-10 p.m. will be the official hearing with on the record objections and challenges to MoArk's permits.
For the Environmental Protection Agency's statement on how CAFOs affect the environment, click here.