Citizens asked to respond to Downing Street Memo
May 30, 2005
A memo duplicating a sensitive
secret British document
has been published on the Internet by the
British Sunday Times Online
that opens up questions regarding what the real reasons were for intervention in Iraq by U.S. President Bush.
Dubbed the "Downing Street Memo," but actually comprising the minutes of a meeting of Prime Minister Tony Blair and other top British government officials, the memo casts serious doubt on many of the contentions of the Bush Administration in the lead up to the Iraq war.
John Conyers Jr. (D-MI), along with 88 of his colleagues, wrote to the President requesting answers about what he called this "grave matter" and claimed that their "search for the truth" had "been stonewalled." The letter had been published by Conyers on his official website.
A message on a special website authorized by Michael J. Remington, treasurer for the campaign of representative Conyers Jr calls attention to "over 1,600 U.S. servicemen and servicewomen killed in Iraq, the deaths of hundreds of thousands of Iraqis, and over $200 billion in taxpayer funds going to this war effort and says that Conyers believes that the country cannot afford to stand by any longer waiting for the truth.
"I believe the American people deserve answers about this matter and should demand directly that the President tell the truth about the memo," Conyers reportedly said.
To that end, citizens are being asked to sign on to a letter that Conyers personally will deliver to the White House requesting he answer the questions posed to him by 89 Members of Congress, the website said.
That letter may be found here.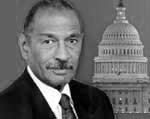 Conyers was re-elected in November 2002 to his nineteenth term in the U. S. House of Representatives, winning 93 percent of the vote in Michigan's Fourteenth Congressional District. He is the second most senior member of the House and serves as the Ranking Democrat on the pivotal House Judiciary Committee.
The congressman has yet to repond to questions as to why he didn't refer to the request for signatures and whether he actually sanctioned the website that was produced by his "campaign manager."