Rohr's revitalization , a vision or pipedream?
July 06, 2005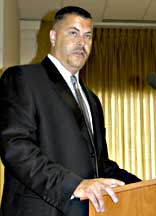 A revitalization plan for Downtown Joplin to counterbalance the growth of Range Line Rd. was introduced last night by City Manager Mark Rohr. Dubbed the "Sunshine Lantern District," and named for the light in a miner's cap that burns lard oil and kerosene, the plan calls in part for "streetscaping" projects and other amenities, building improvements and improved parking.
Rohr admitted that it would be "hard to say what Joplin's investment [in the project] would be although it would not be fair to put the total burden on businesses." KODE-TV City hall reporter Gretchen Bolander in her usual expert persistence pressed Rohr for a total cost estimate. He answered her with a modest figure, "$500,000 a block."
Momentarily suggesting that downtown revitalization has something to do with creating more jobs and higher salaries, Rohr called for the renovation of Main St. from First to Tenth Sts. with the area of Fourth thru Seventh Sts. as the initial target. He said the city could scrape together $600,000 from other budgeted items as seed money for the project.
The buzz word associated with economic development is jobs. Part of the language of the Missouri Quality Jobs Act which Governor Matt Blunt recently signed would allow local voters to determine whether a sales tax for economic development will be beneficial for their area. However, Rohr stressed that there would be no unapproved tax increases to finance the project. Other financing that he mentioned included Modessa grant money to be used as a small business incubator, GEF financing and Joplin Capital money. Owners wanting to refurbish the facades of their buildings would be entitled grants and tax abatements.
Images of downtown Joplin at dusk show occasional passing autos but no pedestrian traffic. The storefronts immediately opposite the Central Christian Center are dingy and uninhabited just as they appeared in a photo taken by member of the Downtown Awareness Walk conducted in 2001. At that time the Center was congratulated on the use of benches and plantings to contribute to the aesthetics of their block of buildings. Click on a thumbnail for a larger version.
Petula Clark was singing in the background as Rohr introduced a video representation of "Downtown." The short footage which began with a glimpse of Joplin Past although without the horses and buggies received a round of applause from the audience of mostly downtown commercial property owners after it showed new building facades with a common theme suggesting Joplin's mining heritage.
Capitalizing on a wave of nostalgia that became popular throughout the country about a decade ago, Rohr wants to create a warm and fuzzy feeling for the central Main St. area, an alternative, he said "to the over-stimulation of modern life." Using the tagline "Past is Present," he wants to create another experience in the downtown area for the some 400,000 market area population that by habit gravitates to the Range Line Rd. corridor. Among other things, he suggests developing "public spaces" where people could "engage and tell stories." He outlined 19 amenities that included establishing recreational trails leading to the city from outlying areas; setting up a mural program to embellish buildings; providing flower baskets, flags and a town clock; organizing activities like arts 'n crafts fairs and reviving the pre-World War II Fiesta Celebration; and playing up a sense of history by encouraging owners to become part of the National Register of Historical Places, installing historical markers and moving the Joplin Museum from Schifferdecker Park to the abandoned Union Depot.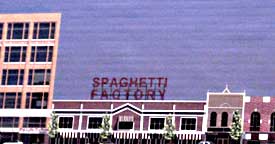 Prominent in the architectural renderings was the "Spaghetti Factory" which sat in the middle of a block of re-fabricated buildings. The suggestion that an eatery similar to the Old Spaghetti Factory, a national chain, would relocate to the Fifth St. block of Main might meet with a major stumbling block: Central Christian Center which owns practically the whole block on the east side of the street benefits from an ordinance passed by Joplin councilmen that prohibits the serving of wine and beer within 150 feet of their front door. However, there is some confusion over just where that door is located, the center having switched it from Main Street to the Virginia side of the building. Ordinance Sec. 10-2 says that a restaurant where 50% of the gross income is food or $200,000 gross annual income may locate not less than 150 feet from the main public entrances of a building actively used for the conduct of religious worship.
[Councilman Gary Shaw in a telephone conversation mentioned that Central Christian Center has three main entrances now. He also said that his parishioners believe in standing up for what's right and wrong, but the center, he said, has been a "good neighbor" and supports the community's efforts to revitalize the downtown. Councilman Guy Palmieri was kind enough to follow up on the entrance rule and said that the City considers Central Christian's Virginia St. entrance its official main entrance.]
Joplin's Entertainment District is enjoying an economic vitality. Popular among the 20-something crowd is Fat Pat's and Club 502 (not pictured). Outdoor beer gardens also attract customers who enjoy a less smoky environment. Champ's has undergone significant remodeling to capitalize on a themed bistro approach. Often the success of downtown revitalization projects stems from the success of places serving alcoholic beverages. In Springfield such was the case where art galleries and boutiques gravitated around them. Springfield also set up hot spots for Internet connection and is able to focus around a couple of convention centers that attracted the likes of Pres. George Bush and Vice President Dick Cheney. Many might think that Joplin should first focus its resources on replacing the aged and aging Memorial Hall. Click on a thumbnail for a larger version.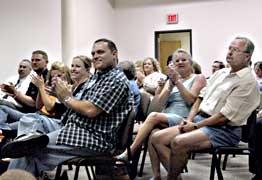 The audience at the July 5, 2005 council meeting was not comprised of the modest wage earners and retired people who attended the council meeting of June 20. For them we dedicate the following virtual interview:

ROHR: "You can't lose with this theme vision...just listen to the music of the traffic in the city....."
CYNIC: "Yeah, it's the noise from all those cars speeding north or south of downtown. How would you eliminate that traffic?"
ROHR: "We would re-route truck traffic onto Seventh St. to Murphy Blvd. [and vice versa]"
CYNIC: "I guess you don't have 18-wheeler experience. Try making the turn from Seventh onto Murphy."
ROHR: "Well, I know I've had parking challenges...not a whole lot of experience in the past."
CYNIC: "So where do you think the influx of people are going to park downtown?"
ROHR: "We are proposing the creation of 42 on-street parking spaces from 4th to 7th Sts. and 9 more including the 8th St. block. We will have 14 angled parking spaces on 5th St. We will save $780,000 for deck space. The parking will be free. I'm letting the market dictate who uses the parking downtown as opposed to someone like me sitting in an office somewhere deciding the issue."
CYNIC: "Sounds like a free-for-all."
ROHR: Parking times will be customized: 1 hour on Main, 1 1/2 hr. on side streets, 2 hrs. on first row parking lots staggered to the back. And we will recommend doubling fines. I'm not sure how popular this will be."
CYNIC: "You just blew it right there. People don't want to worry about the time left to park. You mentioned avoiding the 'over-stimulation of modern life.' Worrying about getting a parking ticket would be a good example. Two hours wasn't enough for me to have lunch at Club 609, drop in on a charity rummage sale and browse the racks at My Sister's Closet. Especially in the heat of the summer, before risking the revenge of a tire marker, I'd think about visiting that nice air conditioned TIF project you created adjacent to the Mall where parking is unlimited during business hours. You want me to come downtown, play some bocce ball in a pocket park or chew the fat on one of your themed benches, then you'd better let me park for free. A trolley service might be nice to get me to my car."