Two sides of Camp Casey
September 01, 2005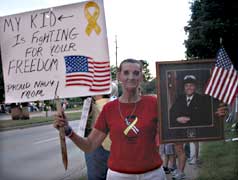 Linda Gardner proudly held up a photograph of her daughter Stacie Gardner, a petty officer third class, whom she said had recently returned from a 7-month deployment in Iraq and had a total of 5 years in the navy. Linda was standing across the street from the group demonstrating for the return of all U.S. troops from Iraq, a sizeable number who were lined up on the apron in front of the First Unitarian Universalist Church on E. Battlefield Road in Springfield.
The counter-protest, which yesterday evening included about two dozen adults and 6 children, was one of 43 organized by Linda Gardner in support of the troops serving in Iraq, which she says are there "because they believe in what they are doing." Reportedly, several hundred had showed up in the morning to offer her support.
"I'm very upset that the protestors would dishonor the troops this way," Gardner said. "The troops continue to fight for them and us."
Occasionally a car passed by with its passenger(s) giving a thumbs up in support of Gardner's cause.
The messages on her supporters' signs labeled the opposition liberal kooks who would hug a terrorist rather than thank a veteran for their freedom. The sentiment also was expressed that there be "no Viet Nam homecomming." (sic)
Gardner admits to being an avid spokesperson for the families of overseas troops. She's found that "deployment is harder than funerals" on family members because "they are worrying about them," but "through tears they are proud of their kids."
Recently, when Gardner discovered that there wasn't a Blue Star Mothers Chapter in Missouri, she had charter papers drawn up. Blue Star Members of America, Inc. is an organization formed during World War II that continues to support members and their sons and daughters who are serving or who have served in the Armed Services of the U.S. She wants anyone interested in promoting a cause that will benefit military personnel to contact her.
Gardner made no comment regarding the opposition's memorializing of Casey Austin Sheehan, a soldier who died in Iraq at the age of 24. Casey's mom Cindy Sheehan yesterday packed up her campsite outside of President Bush's Crawford, TX ranch, ending a nearly month long vigil in her attempt to have the President answer what noble cause her son died for. She now has taken her message on the road.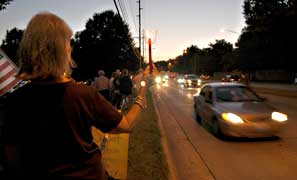 Local Camp Casey concludes with a candlelight vigil
"We are continuing the momentum set in motion by Cindy Sheehan," explained Valerie Fletcher of Seymour. "She broke the ice for all of us."
The chief organizer of the local Camp Casey, Fletcher, was previously a guest of Sheehan at Camp Casey in Texas. Fletcher's son was recently sent to Iraq with his marine unit.
Fletcher said she didn't know what to expect protesting in Springfield, MO but she said she got a lot of support. Bob Ranney, Joan Collins and Kathy Egli, members of Peace Network of the Ozarks, lent their support for the event which began on Sunday, Aug. 29.
Rachel Rothwell, a student at Drury, was one of several hundred holding anti-war signs and waving to passing motorists who honked to show their support. Rothwell said that she hopes "the anti-war movement will grow and grow and that these types of protests will achieve something significant."
Sylvia Donnell of Springfield held a placard with the image of John Lennon on which she was asking fellow protestors to sign their names and include a brief message. Donnell was sending the signatures to Casey's mom.
"I think it's a precious thing for her to know the support Springfield is showing her," Donnell said as she handed a pen around.
Gene Davison held a large American flag, his symbol of his patriotism, as he stood at the curb with his wife Linda Halford dressed in her former army uniform. Halford had seen the horrors of war, she said, having served in a 29 Evac Hospital in the Mecon Delta in Vietnam. Gripped by emotion, Halford couldn't put into words her reasons for being part of the protest.
R.J. Adkins and Eric Soetaert, both freshmen at Kickapoo High School together with Paula O'Neill at the count of three could be seen racing across traffic to the median to remove a sign put there by a counter-protestor which read, "Camp Fonda" with an arrow pointing to their side. All of them found the sign offensive. No reaction to the sign's removal could be detected from the other group.
A poignant reading of the names of the military casualties along with their former residences and ages was accented by the clang of a hammer on metal. At about 7:30 p.m. the protestors put down their signs and stood holding lit candles. In the background taps was heard being played.
At least 84 United States troops were killed in August, according to a count of deaths announced by the military. Since the US-led invasion in March 2003, there have been 1879 American military deaths in Iraq, the Pentagon said, with another 14,265 troops wounded.
"Honor the dead, demand the truth" was the message Camp Casey conveyed.
"What noble cause did Casey die for?" Fletcher asked. "There were so many excuses including weapons of mass destruction. None of them turned out to be the truth."