MSSU gets crime-fighting tool
September 11, 2005
JOPLIN (SNS) - The Criminal Justice Department at Missouri Southern State University recently purchased a LogiCube MD5 to enhance its Crime Scene Investigation (CSI) program.The MD5 is used by the F.B.I., D.E.A., A.T.F., Interpol and other major international law enforcement agencies to secure critical evidence from computer hard drives during crime scene investigations.
Typically, criminal evidence found on computers relates to child pornography, drug transactions, computer hacking, homicide investigations, computer fraud investigations, gambling operations, bank fraud and securities fraud.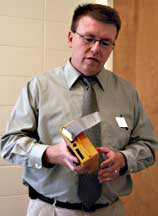 Greg Dagnan, an assistant professor of criminal justice at Missouri Southern State University shows off Southern's purchase of the LogiCube MD5, a leading forensic data capturing system, that can duplicate a hard drive in a matter of minutes. Dagnan, a former director of the Children's Center located in Joplin, continues to be an advocate for the protection of children and the swift prosecution of those who abuse them..
Criminal justice students in the Crime Scene Investigation (CSI) program at MSSU wwill have the opportunity to use this technology in the classroom just as it is used in real-world circumstances. The primary focus will be for students to learn how to collect and duplicate hard drives so that the information collected will ultimately be admissible in a court of law. These students also are required to take courses that outline the constitutional guidelines that must be followed before instruments like the MD5 can be used. Students also learn search warrant guidelines and protocols.
The MD5 does not analyze the data that is retrieved from suspect hard drives. That task is left to the experts in computer forensics, another 4-year degree offered jointly by the computer information science and criminal justice departments at Southern.
For the article, "Local FBI agent discusses computer forensics" click here.