Missouri Southern football coach dies
September 27, 2005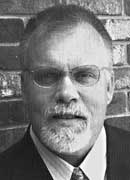 John Ware, Missouri Southern State University football coach, passed away September 27. He was 46.
The announcement was made to the press at Southern by J. R. Belew, sports information director.
Sallie Beard, Southern's athletics director, was on hand to eulogize Ware, whom she called a "visionary" and a "rare man." She said she got the sad news around 10:30 this morning while attending a conference in Kansas City. She rushed back to campus and remembers thinking how quiet the otherwise rowdy athletics building was.
"The entire campus is grieving now," Beard said.
Ware had been hired by Beard for the 2004 season. He succeeded in beefing up the roster and adding four more games to the winning column, finishing his opening season with a 5-6 ledger, including 4-5 in the MIAA. His Division II Lions began the 2005 season with a 2-3 record.
In 1995 as head coach at Truman State, widely considered one of the toughest for which to recruit, Ware racked up 7 winning seasons. He finished his 19-year Truman career ranked third on the school's all time victories list and 12th in the all-time MIAA chart.
Beard called it a "strange irony" for the football team to have to play Truman State next Saturday. She called attention to the fact that both campuses will be grieving Ware's loss.

"I love John Ware," Assistant Head Coach Keeth Matheny said, finding it difficult to use the past tense. He reiterated Beard's description of Ware as having "unbelievable faith in people around him...in every way."
Assuming the reins with 5 games left to play, Matheny plans to have the team play the game this Saturday that "John Ware would be proud of and each and every Saturday from now on."
---
Several senior team members spoke

Linebacker Atiba Bradley remarked how dedicated Ware was to the sport. Even with health issues, he came to practice--except once, Bradley reported. When asked about a moment he remembered about his coach, Bradley said that he remembers the "joy in seeing Coach Ware heckle some of the refs."

Dustin Bromley recounted how he had lost years of eligibility when he left school. He told how Ware had worked hard to help him get the two years of experience back before he became a Lion wide receiver. He credits Ware with revitalizing the program and creating a different aspect of the game. He described his coach as a "Teddy bear--quiet until you got him mad" and that he was "kind of like a father." His office always was open.

Not a day went by, Jason Stumbo said, without going to his office. The winner of the Dudley Stegge Memorial Award as the Lions most valuable offensive lineman, Stumbo credits his coach with teaching him "stuff he could use later in life" and "having a connection with players from the get-go."
When Stumbo heard the news, he said he ran down not knowing what to expect. He saw his coach being brought out on a stretcher.
---
Co-defensive Coordinator Brian Ward tried giving Ware CPR, Matheny reported. He said it happened so fast. Ware was in his office working as usual, he added.
Ware was taken to Freeman Hospital West in Joplin but was pronounced DOA. A massive heart attack was confirmed by autopsy performed in Springfield.
Visitation for Ware will be held Sunday, Oct. 2, 2005, from 1-4 p.m. at Thornhill-Dillon Mortuary in Joplin. The memorial service will be held Monday, Oct. 3, 2005, at 2 p.m. in Taylor Auditorium on the MSSU campus.
A second visitation is planned for the afternoon of Wednesday, Oct. 5, 2005, in Ware's hometown of Ottumwa, Iowa.