Randy Turner's media circus, Small Town News
October 27, 2005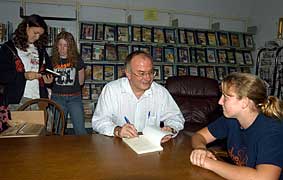 Randy Turner signs his new novel, Small Town News for students gathered at a booksigning, October 20, 2005, at the Neosho/Newton County Library. Seated is Ashley Nickolaisen, a Diamond High School freshman. Behind them is Jessica Harrison and Michelle Nickolaisen, both juniors at Diamond High. (Photo by Vince Rosati)
Perhaps, Randy Turner's decision not to provide an introduction to his recently published novel, Small Town News, was an indication that he didn't want his readers to have too many pre-conceived notions before turning the next page. But Turner did admit to his audience of mostly Diamond High School students that he had decided to write a book featuring a teenage protagonist who becomes an intern in the newsroom at a local TV station.
Turner says he doesn't know why he picked the name Tiffany Everett for the role of the high school junior who learns firsthand the demands of vying for the number one spot in news, often having to sacrifice ethics to get there.
The plot capitalizes on many of the true events surrounding the robbery of the Bank of Diamond and the simultaneous disappearance of the town's school superintendent, Dr. Greg Smith. The feeding frenzy that overcomes the media covering these two events is exposed by Turner who writes in the third person as Willie Taylor, a current events and journalism teacher at fictitious "Rockport High."
Turner says that most of the characters described in the book were taken from notes he made for a book 26 years ago, and that included the Rockport High School principal whom he called Martin Donovan, a man, it becomes obvious, that everybody quickly learns to love to hate.
The aspect of the book as a docu-drama-- mixing real life events, people, and places together with the dramatic liberties that Turner takes no doubt will set his readers to guessing just which character is real and who is a figment of the author's imagination. For example, the TV news anchor named Shannon and her rich live-in photographer-boyfriend may bring to mind people we really have met.
---
About the Author
Randy Turner is a creative writing teacher at South Middle School in Joplin. After graduating from East Newton High School in 1974, he went on to Crowder College and Missouri Southern. Turner worked for 22 years in the newspaper business as a reporter and editor. He also previously was a teacher at Diamond Middle School. His hobbies include singing with the band Natural Disaster and writing his blog, "The Turner Report".
---
"Keep on writing every single day" was the advice Turner gave the assembled students. He admitted to sticking to a two-month schedule during which he wrote at least one thousand words daily.
When asked why he chose iUniverse over a more traditional publisher, Turner said, "Unless you're JK Rowling, John Grisham or Paris Hilton, you won't get published." "Self-publishing is so affordable now."
And why did he choose the Neosho/Newton County Library for his first booksigning?
"I started reading because of this library," he said. With his dog, Dog-Dog, by his side growing up in Newtonia, he said that he eagerly awaited the regular appearance of the library's bookmobile in front of Carroll Gum's store, its regular stop.