Neosho skate park has grand opening
November 13, 2005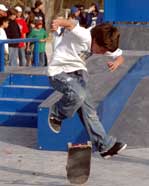 Andrew Cocchiaro showed his enthusiasm for skateboarding as he competed in the beginner's division during ceremonies at Neosho's new skateboard park.

A grand opening for the City of Neosho's skate park took place the afternoon of November 12, by Morse Park off of Coler. Several hundred spectators lined the outdoor facility to watch skating demos by teams from local skateshops as well as local skaters competing for prizes who put themselves in beginner, intermediate, or advanced categories. The event was sponsored by Carbon Star, fringe, and Sugar Sports.
The Neosho skateboard park joins about a half dozen such facilities in Missouri. It was built through contributions by local businesses and private individuals interested in fostering the sport as well as through a deal negotiated with its manufacturer American Ramp Company.
Most skateboarders had exercised their right not to wear protective covering, but Desiree Patrick, owner of Carbon Star Skate Shop of Joplin, thinks that it's smart to wear a helmet. "I wouldn't let my kid skate without one," she said.
The perils of amateur skateboarding--Click on any thumbnail for a larger picture.
Brief history of skateboarding
Skateboarding started as a hobby in the '50s when California surfers decided to surf the streets. They used homemade wooden boxes to which they attached roller skate wheels before they were able to purchase skateboards made of planks of pressed layers of wood similar to the skateboard decks of today.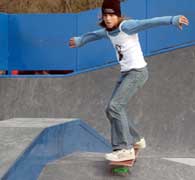 Meredith Hosp, one of the top scorers in the amateur division, proves that gender plays no part in the sport of skateboarding.

In spite of a sudden downturn in skateboarding's popularity a decade later the sport held on with skaters changing their style of skateboarding from a "freestyle" to using more tricky maneuvers including the ollie invented by a skater named Alan "Ollie" Gelfand who would slam his back foot down on the tail of his board and jump.
The use of the skateboard facilities is limited to park hours, or dawn to dusk. Currently, there is no lighting.
---
Photos by Vince Rosati
---