Crosslines serves people in need
November 25, 2005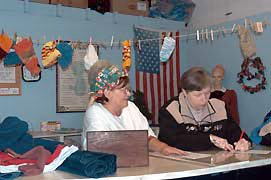 Workers at Crosslines Churches of the Joplin Area help to distribute items that meet the needs of low income families. Donations of winter mittens and hats are strung on a clothesline behind them.
Area citizens not associated with the 56 congregations whose 300 volunteers give four hours of service one day per month to Crosslines might not have a clue exactly how important the agency is to a community. At one time a Joplin Globe article described Crosslines in Joplin as a place where women went for clothes they could wear on their first job. But Crosslines is far more than that.
Congressman Roy Blunt found an excuse for the media to once again convene at the Crosslines clothing and emergency food center located at 131 S. High St., Joplin. He wanted to get the message out that even though there was so much more to give to this year because of natural disasters, that people shouldn't forget those local agencies that make a big difference every day.
"I'm flattered over Blunt's visit and concern for our outreach that affects low income families," Pat Black, Crosslines executive director commented after the congressman had left. "Our numbers are higher than other pantries around here."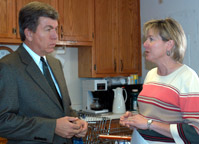 Congressman Blunt chats with Margaret Lawellin, assistant director of Crosslines. In charge of food distribution, Lawellin was explaining from which sources food was donated. That day although the pantry was not bare, the quantity of food was low.
A Missouri Department of Family Services letter usually is an individual's invitation to visit the center's pantry, assistant director Margaret Lawellin said. The letter also stipulates which nutritious goods should be distributed to the individuals whose applications fill three large boxes nearby.
Local groceries and a bakery like Panera contribute their "day old" products but "fresh things are nice," she admitted. Government commodity foods are replenished on the last Thursday of the month.
In addition to food, Crosslines supplies up to 880 registered individuals, who each may come once a moth, with clothing that volunteers have sorted on racks in the main room of the center. There is no charge for the items.
At this time of year Black says she encourages donations of gently used or new toys. In addition, household items like bedding--especially blankets, electric heaters and pots and pans are needed. The center is open from 10 a.m. to 2 p.m., Monday through Friday, to receive donations.
Tax-deductible checks may also be sent to Crosslines at P.O. Box 1242, Joplin, MO 64802.