Chamber program helps launch JoplinDaily.com
December 28, 2005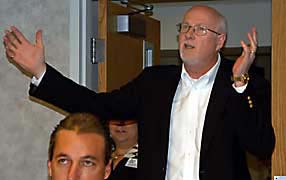 Joplin Area Chamber of Commerce staff member Steve Russell shows how huge he expects the impact to be of the chamber's new FocusOn™ You! Program. Earlier in December the media was invited to hear the details of the program whose main sponsors include Joplin Ford, the soon-to-be launched JoplinDaily.com, Home Pro and Sign Designs.
If you were launching a new Joplin news source, how would you go about it? You might rent some billboards. You might pay for some spots on TV.
Well, JoplinDaily.com did just that. They also became one of the main sponsors of a new program called FocusOn™ You! Under the auspices of the Joplin Area Chamber of Commerce their name will appear on 4400 membership cards to be mailed to 1100 businesses with at least 300,000 employees. (An interesting note: as a member of the chamber, the employees of the Joplin Globe also will be mailed cards.)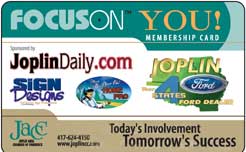 The brain child of Kurt Medlin, sales and marketing manager of DataGraphics Printing, the FocusOn™ You! program ostensibly is an attempt to increase membership in the chamber, as an incentive for people to get involved as members, and as a way to build business in the Joplin area. Organizers hope to work out kinks in the program before presenting it at the national convention of chambers of commerce in Philadelphia in August 2006.
How does this program work? Each membership card will have a tear-off key fob card that a member will be able to scan at every authorized chamber event. The more times the card is scanned the more chances each member will have to accumulate points with a set number of points qualifying him or her for monthly, quarterly and annual prize drawings.
Grand prizes will include a Ford Focus and a room addition valued at $15,000. Monthly prizes will include tickets to the Super Bowl and certificates for products and meals.
When asked if the Joplin Globe had the same opportunity to be a major sponsor of this program, Ginger LaMar, chamber membership manager, said that the idea for the program came from outside the chamber organization and consequently those main sponsors were pre-determined. She was quick to say that there was nothing to stop the Globe from sponsoring a drawing.
For additional benefits of chamber membership, click here.
John Hacker, former reporter for the Joplin Globe becomes JoplinDaily.com editor
"Turning the average newspaper backwards" is the way John Hacker, the new JoplinDaily.com editor describes Liberty Group Publishing's new effort. Instead of the website directing reader's attention to a hard copy newspaper, the JoplinDaily's newspaper to be published every Sunday and hand-delivered to 12,500 addresses in Joplin, will draw readers to their website that will be updated regularly. The newspaper also will be available wherever the Big Nickel is distributed.
The motto "All Joplin, all the time" best describes the JoplinDaily's effort to provide extensive up-to-the-minute Joplin news.
Around here the use of a website is a "cutting edge thing," Hacker said. Being able to provide regularly updated information is "the direction the web is going," he added.
"We will need help with this," Hacker stressed. He encourages people to submit story ideas and posts to individual stories, comments in their guestbook and the use of their weblog. Parents are asked to submit pictures of their sons' and daughters' sporting events as illustrations for articles or to be inserted in a picture gallery. Regular columns also will be considered.
The germ of the idea for an exclusive Joplin news source came from Chip Watson, the regional manager of Liberty Group Publishing who will serve as publisher. He was joined by Rick Rogers, the publisher of Liberty's Neosho Daily and Nick Parker, head of its special publications division. They kicked around several ideas and took several months before making a decision.
Liberty Group Publishing is headquartered in Northbrook, IL. Specializing in publications with daily circulations of less than 20,000, the company currently owns over 270 publications, including 64 daily newspapers, each with a website serving as the local portal within its community. In addition to the Neosho Daily the Carthage Press is part of 19 newspapers currently operating within Missouri.