Retired Springfield man creates Pill tell™
January 09, 2006
Guy Pollard's idea was just that, an idea, when he stepped into the office of Springfield SCORE. But Pollard's Pill tell™, an aid to helping people with the drugs they take, is now being marketed at the Family Pharmacy chain in the area. And a group of manufacturer representatives are now in place to expand distribution.
"They were excited about my crude little invention," Pollard, a retired railroad executive, said in a phone interview today about the team of retired professionals who man the SCORE office, a division of the Small Business Administration that provides guidance and information to anyone tackling a business plan.
Pollard said that he visited SCORE several times to get marketing advice. He was especially complimentary of the assistance of Jim Watts, a retired advertising and marketing executive who has been a SCORE volunter for 6 years. He also received assistance from Counselor Dennis Jones with legal matters like patent protection.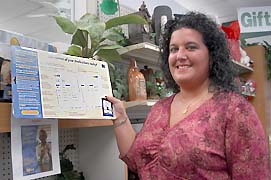 Mandy Jones, a co-director of pharmacy services for the Family Pharmacy chain, holds up a packaged Pill tell™. Family Pharmacy, formerly Ken Reynolds Pharmacy, is located in Joplin at 3202 S. Indiana (corner 32nd St.). The Pill tell™ sells for $19.95 with its purchase qualifying buyers for a 20% discount on any medical planner.
The invention is more than just a "pill dispenser," Pollard said. Not only does Pill tell™ provide a compartmentalized container to organize pills by the days of the week but also it allows for visual reinforcement for what the pills look like, and a memo board for detailing exactly when and why the pills are being taken. Pill tell™ comes with a special pen for making notations that can be erased with a dab of alcohol, a hook for hanging, and an optional packet to attach for storing medical cards and other pertinent data, he elaborated.
In discussing the use of his invention with senior citizens whose memory might need assistance in taking drugs, Pollard said that he repeatedly heard the comment, "I have no problem with this." But their neighbors or relatives who have assumed caregiver roles ardently disagreed.
"Doctors also tell me they love it," Pollard added. Instead of being presented with a bagful of pill vials, the doctors, who are seeing patients for the first time, easily are able to determine what drugs their new patients are using, at what doseage and for what reason.
For information about distributorship, call (866) 855-0171.