Gov. Blunt charts course for Missouri
January 12, 2006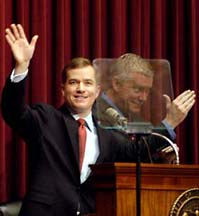 Missouri Gov. Matt Blunt waves to the crowd on the left of the Chamber of the House of Representatives before beginning his State of the State Address. Behind one of the teleprompters is Lt. Gov. Peter Kinder waving to those on the right.
Article by Mari Winn
Photos by Vince Rosati
Missouri Gov. Matt Blunt gave his State of the State Address January 11, 2006, in front of a packed combined House-Senate chamber. Appreciative fellow Republicans stood and clapped about two dozen times to show their support for the programs the governor was proposing in his fiscal year 2007 budget, while on the other side of the room most of the narrow band of Democrats sat stoically.
Republicans offered major applause after Blunt's seemingly apparent dig at the Holden Administration in which he implied that the former Democratic governor could not balance the budget "without new job-destroying taxes and without borrowing or accounting gimmicks." However, other times some Republicans were slow to respond presumably to statements not reflecting their personal agendas. The statement made by Blunt that his administration "changed course to bring the state's priorities in sync with the people's priorities" received no applause at all.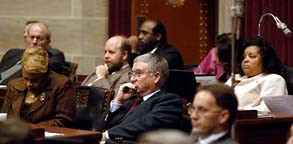 The Democratic side of the chamber is shown here.
The governor's reference to his budget funding fewer than 60,000 state employees drew applause as well as his statement that an important component was the inclusion of a four percent pay raise for state employees. Pay raises for all the judges and elected officials doing the clapping were not included in the budget. This "oversight" brought whispers in the hall afterwards from lawmakers, who in the past tucked their raises into legislation without too much of a public hew and cry.
Blunt spoke of "technology and innovation" as being "essential" in improving the delivery of healthcare for all Missourians. He described the responsibility of his proposed Healthcare Information Technology Task Force to seek ways of harnessing technology in order to make better care decision for patients, which sounds like managed care, but which was not specifically described in those terms.
$25 million will be set aside in new state dollars for a Healthcare Technology Fund for programs the governor says will "improve the health status of all Missourians," but no mention was made of funding to police contaminators of the environment leading to significant healthcare problems. One of two times that the word "environment" was used in the speech was to take credit for creating "a jobs environment." The other time the governor asked legislators to stand with him "for the environment and new energy supplies made right here in Missouri." With that statement is a presumption that he favors keeping RES in Carthage open no matter how awful the operation smells.
Curiously, the governor is recommending adding $4.5 million to promote travel to and within Missouri. According to documents in the Capitol's museum, agriculture, Missouri's chief business for nearly 150 years, now "ranks third in importance behind manufacturing and tourism". Just plain folks in Southwest Missouri and in other counties are trying to keep factory farms from destroying what little attraction there is for tourists in their areas. This has proven to mean making sure that legislators don't pass laws to stifle their efforts.
State Budget Director Larry Schepker at an earlier press budget briefing when pressured admitted that, of the three jobs actually cut from the government workforce, one came from the Department of Natural Resources. He also said that available funds in the DNR's budget were used to paydown debt.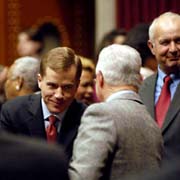 During his processional walk to the podium Gov. Blunt leans over to shake the hand of a Representative.
Other aspects of the budget proposed by Blunt support education, including an additional $1 million for the Parents as Teachers program, an across the board two percent raise for higher education, and an increase in A+ program funding of $1,800,000. The governor has allocated $6,100,000 for Missouri's Utilicare program in order to give utility companies $600 for each senior and low income Missourian who cannot pay his or her heating and cooling bills, $10,900,000 increase to improve the quality and availability of in-home healthcare, a $2,100,000 increase to support drug courts for non-violent drug offenders, full funding for Missouri's bio-diesel and ethanol incentives and $700,000 additional for the funding of new community health centers.
Blunt also pushed for further legislation to control the manufacture of methamphetamine, to put more tax dollars in the classrooms, to establish a new state veterans' cemetery at Ft. Leonard Wood, to prevent eminent domain abuses, to enact a version of Jessica's Law to impose a minimum sentence of 25 years for sex crimes against children and to pass stronger penalties for those who commit violent crimes or fraud against senior citizens.
---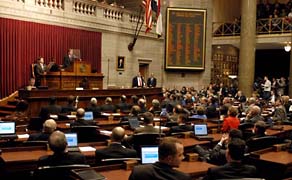 The Chamber of the House of Representatives with a sea of bodies in tailored suits
There is a certain grandeur to politcs at this sort of event that must be seen at least once in one's lifetime beginning with the sea of bodies in tailored suits, some upright, some lounging, but all chattering in small groups like high school kids just returning from summer vacation.
But with the ringing of the bells that announce the start of the session everyone becomes quiet and orderly. A colour guard appears and the Pledge of Allegiance is said. Roll call is taken, a quorem is determined and announced and the formalities are able to begin. On the podium the Speaker of the House pays tribute to the judges and other high ranking officials in the audience who sit in a gaggle immediately to his left. Isn't that Doyle Childers?, we asked. And sure enough he stood to some catcalls and applause. Larry Crawford, director of corrections, received the same reception. We had no answers as to why some were more favored than others.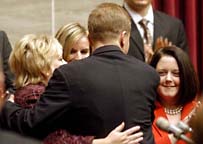 Sharing the limelight with the governor are his two favorite women, his mother (being hugged) and his wife (smiling).
Lt. Governor Peter Kinder who spoke first and the governor following him were escorted into the chamber by a select group of representatives and senators who walked down the center aisle grabbing the hand of anyone willing to share one. Everyone in the chamber stood and the Republicans at least clapped to show their support for their leader. Before taking the podium, Blunt hugged the two women in his life most meaningful to him, his mother Roseann Blunt (who father Cong. Roy Blunt divorced to marry Altria lobbyist Abigail Perlman in October 2003) and wife Melanie who were sitting nearby.
These were my observations on my first visit to the Missouri Capitol to hear Gov. Matt Blunt give his State of the State Address. What I also found interesting were the questions asked and concerned comments offered by members of the media addressing the issues surrounding Blunt's fiscal 2007 year budget. Their sympathies for the rights of the individual apparently are lost in editing.
---
The major concern of the media at press conferences before and after the address dealt with issues surrounding the state's Medicaid cuts. While the governor stressed improved access to high-quality healthcare which he credited to tort reform, he did not allude to cuts that prevented claims by the 16% of Missouri's citizens who still qualify for Medicaid for things like wheelchair batteries, cushions and nebulizers. In his rebuttal, however, Republican Speaker of the House Rod Jetton said that legislators would continue to look at healthcare funding problems and "if there's a real problem out there, fix it". While cuts of $138 million were attributed to "waste, fraud and abuse," the Republicans offered no specifics. And putting "personal responsibility" back into the Medicaid program exactly wasn't made clear. In the Republican rebuttal there was help for the disabled, help for the elderly but no mention of help for working adults who can't seem to make ends meet.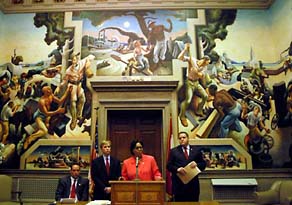 Democrats giving a rebuttal press conference in the Missouri House of Representatives lounge are dwarfed by the vibrant artwork of Thomas Hart Benton. They are: L-R, Senator Chuck Graham, Minority Floor Leader Jeff Harris, Senator Maida Coleman and Assistant Minority Floor Leader, Paul LeVota.
Benton was commissioned to paint the murals in 1935. Drawing on his experiences growing up in Missouri, Benton featured scenes of early settlement, politics, Civil War and farming in his "Social History of Missouri." Ed Barbour, the Senator who introduced the legislation to commission the mural, appears in one of the scenes.
Medicaid and employment figures were questioned by leading Democrats. They want Republicans to tell them how many of the 90,000 cut from the Medicaid rolls have reclaimed their eligibility. In addition their figures show that Missouri has a high unemployment rate with the 9th worst employment record in the country. They claim the job rate has been stagnant since May 2005.
Assistant Minority Floor Leader Paul LeVota (D-52) queried, "How can we be a billion dollars in the red when we must balance the budget?" LeVota was referring to the allegation by Gov. Blunt at the beginning of his address that when he took office "the budget was more than a billion dollars in the red, a series of government programs were bankrupting the state and tens of millions of dollars in waste were scattered throughout state government."
Senator Chuck Graham of Columbia (D-19), another assistant minority floor leader, thought that an across the board $2600 pay raise, not a percentage of salary, would be a more equitable distribution. He spoke of those at the top of the pay scale not needing as high an increase as those at the bottom of the scale. And he was highly critical of Blunt's decision, obviously not mentioned in his address, to give $50 million in tax credits without government approval to those he called Blunt's "buddies in Kansas City" in order to construct a new sports complex.
Printouts of Bureau of Labor statistics that showed an addition of 20,000 new jobs were handed out to those in the media questioning the governor's statement that on average his administration has seen the "creation of more than 500 new jobs per week" since his address last year.With the implication that he was shrinking government employment rolls and with coverage of substantial industry closings, the media was hard pressed to equate the Labor stats with an economic upturn.
The full text of Gov. Blunt's address may be found here. The rebuttal by Democratic Senator Maida Coleman is here.