Joplin has $7 million to start Zora/Main project
January 15, 2006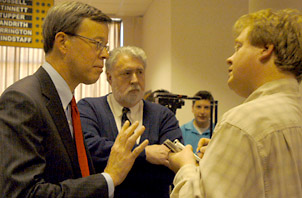 Senator Jim Talent, at left, is questioned by Joplin Daily editor John Hacker at Joplin City Hall on January 13. Also present is Councilman Gary Shaw.
U.S. Senator Jim Talent visited Joplin City Hall recently to announce that he has won approval for federal funding secured in the fiscal year 2006 Transportation/HUD Appropriations bill for a major transportation project in Joplin. These funds will be instrumental in the development of the interchange at Zora and Main Street which will allow a more efficient thoroughfare for traffic traveling east and west from Schifferdecker Ave. to Range Line Road in Joplin. Talent presented Mayor Phil Stinnett and other Joplin officials with a ceremonial check for $5.82 million.
Talent worked to secure the federal assistance for part of the $15 million plan to raise Zora Street from the east onto a bridge crossing Highway 43 (N. Main Street) in order to connect to Zora on the west. The interchange will alleviate the problems on the west side of Highway 43 where continuating access to Zora on E. Elk requires crossing a set of Kansas City Southern tracks that lead trains to Wyoming. Before the installation of a traffic light that changes when a vehicle approaches, trucks coming from the nearby depot (originally Burlington Motor Carriers and now Hook-Up) were hit by on-coming trains while waiting for the light to change because their back wheels could not clear the tracks. This access will be removed along with the traffic light which will be moved to accomodate the new interchange. In addition, a barrier is proposed to prohibit any cross-over from the north and south sides of Highway 43.
"I'm pleased to partner with local communities to deliver funding for important transportation projects," Talent said. "David Hertzberg (Joplin's Public Works Director) and other officials in Joplin told us the Zora Street project was a priority for them which made it a priority for me and for Congressman Blunt. I am very pleased we were successful in securing funding to improve one of Missouri's most dangerous crossings."
Work on the Zora and Main Interchange was identified in the Zora Corridor Study completed in 1999. With this funding, the project can be accelerated to begin the initial stages of design and development. This $15 million project was one of the 19 projects that taxpayers approved in the August 2004 election for a 3/8 cent capital improvement sales tax for road improvements. According to Rob Smith, assistant city engineer, so far, about $1.2 million from sales tax receipts has accumulated in the city's coffers. He said, the initial funds of $7 million will be used to buy the land needed for the project and to begin the elevated dirt berms needed for the bridge.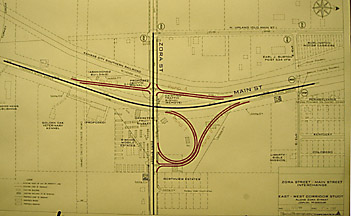 Smith also explained that the chart that was being used to demonstrate the project wasn't exactly accurate. It reflects an East-West Corridor Study done in 1999 by TennSystems Corp. Modifications since have been made to the concept of the ramp allowing for a single approach to the east side of Zora with right and left turning lanes at a traffic light.
If the scale of the chart is accurate, the proximity of the ramp will affect residents living in the moderate priced development called Northview Estates that has been completed off of Zora on the east, as well as require the purchase and removal of several other nearby structures.