Photograph inspires composer for ProMusica event
February 04, 2006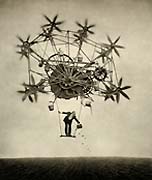 A review by the San Francisco Art Institute describes the collaborative photographic work of Shana and Robert ParkeHarrison as creating "the man who attempts to intervene with nature as a god or angel might -- only this character has wing-tip loafers instead of wings, and contraptions made of twigs and buckets and the like in lieu of magical powers." In 'The Sower II,' a silvery photogravure, "this unlikely superman," according to the critique, "balances precariously on a rope swing dangling from a pinwheel-powered airborne waterwheel, which dumps buckets of water on the bulbs the man throws onto the muddy field below," and it concludes that there's "an endearingly quixotic quality to this figure and his admirable but absurd sowing method."
Parke Harrisons' photography inspired composer Paul Schoenfeld, supported by a grant from the National Endowment for the Arts, to create a new piece for string quartet called "The Sower." Pro Musica and Spiva Center for the Arts have teamed up to present the world premiere of this work performed by the award-winning Jupiter String Quartet beginning at 7 p.m., Thursday, Feb. 23, 2006, at the Calvary Baptist Church, 600 E. 50th Street, Joplin.
The program also will include Franz Joseph Haydn's Quartet in B flat major, Op.76/4 "Sunrise" and Franz Schubert's Quartet in D minor, D. 810 ("Death and the Maiden").
A champagne reception will be held after the performance at the George A. Spiva Center, 222 W. Third, Joplin. The composer, photographer and quartet will be honored guests. A print of the ParkeHarrisons' "Sower" will be on display.
General admission for the concert is $10 per person; admission to the concert and reception is $30 per person. Tickets may be purchased at Cleo's, Ernie Williamson Music, All Things Grand in Carthage and any branch of Hometown Bank.
The concert is sponsored in part by the Robert & Reine Hartley Foundation and the Missouri Council for the Arts.