Marshfield wins Joplin High debate tournament
February 13, 2006
Marshfield High School's debate team took first place at the 42nd annual Heart of the Ozarks Speech and Debate Tournament held last weekend at Joplin High School. Eighteen schools competed with over 200 competitors. Runners-up were the high schools of Nixa, Webb City, Republic and Blue Springs South.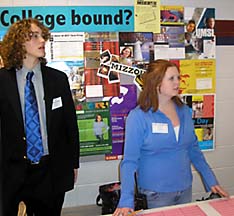 Sophomore Tom Mourning and Junior Tera Horine had the job of assigning judges to each event at Joplin High School's 42nd Annual Speech/Debate Tournament. (Photo compliments of Adam Blood)
Joplin High students don't compete in the tournament. They run it. Their responsibilities include sending out invitations, ordering trophies and organizing the awards ceremony, getting and assigning judges and timekeepers and recording results. In addition they set up hospitality rooms, do hall supervision and organize topics for draw events like extemp and improv.
"I think the tournament went very well for the size of our squad running it," said Phillip Travis, JHS speech and debate coach. "We have 24 members on the JHS Speech/Debate team and each member was physically and mentally exhausted after all the work they did!"
Single and team participants competed for the most points for their schools. Events included one-on-one and two-on-two debate as well as literary and drama contests, original oratory speech, improvisation, student congress and stand-up comedy.
"We offered new events this year such as original stand-up comedy and group improvisation where coaches could participate in the action," Travis said. "Students can take away many things from a Speech/Debate program. They learn argumentation skills, vast communication skills, government and political knowledge and learn to sculpt creativity skills and organizational skills, all while having a ball in doing so!"
Community volunteers acting as judges were given the responsibility of ranking on a scale of 1 (the best) to 8, each of 8 participants in individual events based on such criteria as hand gestures, articulation, vocal quality, eye contact, facial expression, movement and creativity. They used other criteria to determine who scored the most points for the speech events, including the Lincoln-Douglas debate where students from opposing schools argued either affirmatively or negatively about current issues affecting society.
In the semi-final and final rounds a concensus of three judges determined the winners. Schools earned additional points based upon how far they advanced.
"I am so proud of the team's efforts to give all coaches and competitors a smooth well-run tournament with minimal delays and fun times," Travis concluded.