Mumblings - 2/26/06
February 26, 2006
How does the news about Land 'O Lakes selling its "underperforming assets" like MoArk sound? But what company would consider buying it with the Neosho community united against expansion? And whatever it is that keeps people morally responsible didn't see fit to punish the MoArk management for the years of environmental degradation that the operation created unless someone thinks that getting $71 million in cash as a buyout from their parent company Land 'O Lakes is a punishment.
It's good to hear that the Supreme Court turned down Arkansas Attorney General Mike Beebe's plea to intervene in the jurisdictional dispute between his state and that of Oklahoma. Eight Arkansas companies, the likes of Tyson, George's and Cargill, will have to fight their own battles with the Attorney General of Oklahoma, Drew Edmondson who filed a federal lawsuit accusing them of being responsible for polluting his state's waterways, specifically the Illinois River watershed. While the chicken companies are crying that such litigation would hurt their businesses and do serious damage to the economy of Northwest Arkansas where the poultry industry remains a driving force, maybe, they should just consider restraining their executive umbrellas and put the money toward better nutrient management efforts...And every state has some creep legislator who wants to protect these big businesses. Oklahoma Senator Harry Coates, like what Rep. Roy Blunt tried to do on the federal level, has proposed SB1703 that would amend Oklahoma agri laws to define animal waste as not hazardous and thereby put a stop to Edmondson's efforts. The state farm bureaus try to rally the mom and pop operations saying they would benefit by such legislation, but the small growers and farmers should know by now that it would make the rich poultry companies economically more of a threat to their small operations.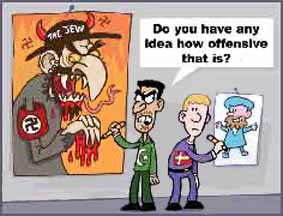 THE ADMONISHED DANE, or an excuse for full-scale violence (Artist unknown)

Speaking of news, we know of some people that wear ear plugs rather than endure the mental anguish associated with being informed. For others, hopefully, the majority, trying to make sense of it all is a priority. Kudos to Randy Turner for his Turner Report and the effort he puts into culling information from sources near and far so we can sleep at night. There aren't enough hours in front of midnight to singularly devote to that task.
What's behind President Bush's steadfastness in having the government of Dubai manage those eastern ports? Does his Syrian buddies, like the bin Laden family play any role in this? I overheard someone say that secretly he would agree to OMG-what-is-Bush-going-to-shock-us-with-next if this company also took care of Air Force One.....
Has anyone heard about the Thomas Hart Benton Festival scheduled for April 21-23? The Newton County Tourism Council of Missouri in partnership with Crowder College has announced that it will pay tribute to the artistic superiority of their native son by scheduling such activities as art history presentations, assembling a photo exhibit and mural competition, and staging Civil War enactments and walking tour activities. Most activities will take place in Newton County. However, the Joplin Museum Complex will showcase Joplin's heritage and promote viewing of Benton's mural housed at the Joplin City Hall. We're hoping that someone in Joplin will jump on the bandwagon and plan a cultural activity to encourage tourism like this.