Pro Musica performance inspires JHS students
February 27, 2006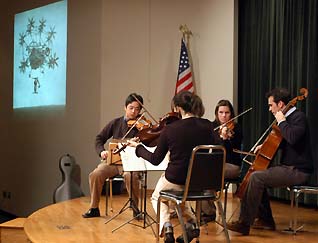 Several hundred students were present. Their complete attention was focused on the Joplin High School auditorium stage. Besides the music playing and the brief remarks about it from cellist Daniel McDonough, not a sound could be heard except their enthusiastic clapping.
"If you went to their cars, you wouldn't find this music," was the comment made after the performance by R-8 Superintendent of Schools Jim Simpson. So, what caught their rapt attention?
Joplin High School students on February 24, 2006 were treated to an encore performance by the Jupiter String Quartet of The Sower, a piece that had its world premiere at the Calvary Baptist Church in Joplin the day before thanks to the efforts of Cynthia Schwab, Pro Musica founder and artistic director. Created by noted composer Paul Schoenfield, The Sower is a musical composition inspired by a photograveure, the collaborative work of Robert and Shana ParkeHarrison.
"It's pretty rare and exciting to have a musical piece as a dimension to our work," Robert ParkeHarrison revealed to the students.
He further explained how the creative process might be "chaotic" and that inspiration could come from many sources: intuitive images, something said or even cult films. The object, he said, was to "create a 'mind state' where passing thought becomes art." In this case a scribbled sketch made on a napkin in a restaurant was turned into one of a series of 10 flying pieces of equipment on which a man (Robert himself) is perched tossing seeds to a parched earth. Although he hinted that the piece that was created in their New England studio 6 years ago suggested a metaphor for starting over to improve our land that is ecologically grim, he suggested that any work of art should be open to many personal interpretations.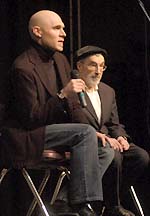 Robert ParkeHarrison with the microphone explains how he and his wife Shana created The Sower, drawing from their training in painting, dance, photography and theatre. About to discuss how he transformed ParkeHarrisons' artistic work into music is Detroit native and highly respected composer, Paul Schoenfield.
What better subject could be chosen for instrumental gestures from a 10 minute string quartet than the images of a man tossing seeds from a bizarre flying machine onto a spent earth. An interest in mathematics guided the composer. Schoenfield defined the concept of isomorphism to show how he correlated his musical passages to the parts of the image. He said he was particularily struck by the propellers on the flying machine whose musical interpretation he created with tremolos, with pizzicati for the seeds, the form of a fugue for the flying machine itself and a hymn for the parched earth.
Schoenfield said a composer considers the overall length of the piece to be written, then decides how to represent this or that. But working like a carpenter building a kitchen cabinet, for instance, with precise measurements is not the way he writes music. And, he said, he was never inspired by walking in the forest like so many nineteeth century composers.
"You're never going to hear a string quartet any better," were the words Schoenfield used to describe the prize-winning Jupiter Quartet who have performed in prestigious venues across the United States and Italy. Unlike orchestras that play the same pieces hundreds of times, don't want to learn another piece or don't have time, the quartet [consisting of Nelson Lee, violin; Megan Freivogel, violin; Elizabeth Freivogel, viola and McDonough, cello], he said, is a perfect choice for interpreting this type of work.
Schwab admitted in passing that she wasn't a musician, but "how you get from here to there--all this is fascinating," she said.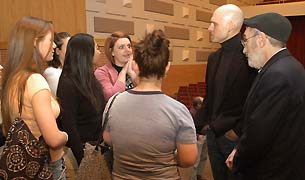 Joplin High School students gather around Robert ParkeHarrison and Paul Schoenfield after a performance of The Sower in the school's auditorium.
As were the members of the audience at the premiere performance, the students, who had classes in music, art, creative writing and/or TV broadcasting, were asked to become part of the final process. "Inspiration, creation, performance and reaction" were the components explained by Ken Meisinger, co-director of Pro Musica, to the students during his introduction to the music. Their role was to be the final step in the creative process by defining the significance of hearing the new music--what kinds of images and thoughts the music adapted from a picture inspired for them. They also were asked to consider other avenues of expression for this unique creation and identify steps that determine and develop a successful performance.
In promoting music education, Meisinger said that it forces the brain to find special relationships in things. "You never go away from them. You take this ability (intelligence) into other areas." Simpson agreed that the performance was a special treat for the students that they will not forget.
Photos by Vince Rosati