Pittsburg entrepreneur Gene Bicknell tells secrets
March 05, 2006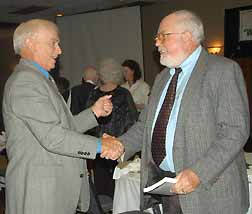 Pittsburg, KS entrepreneur Gene Bicknell (at left) shakes the hand of Clair Goodwin who just recently retired as a full-time news correspondent for the Joplin Globe. Goodwin had the honor of sitting at Bicknell's table during a Leadership Joplin Symposium/Luncheon March 1, 2006, in which Bicknell was the guest speaker.
Gene Bicknell introduced himself to the Joplin area business community as somebody whose relatives invented the bathroom stool seat. With that kind of background, the audience at the Leadership Joplin Symposium held recently at the Holiday Inn was supposed to believe that Bicknell's entrepreneurial success had something to do with his background. But, as Bicknell quickly retorted, "Somebody else came along and put a hole in it."
This sort of self-deprecating humor is part of the man who has become the founder of more than 5 companies and the leading benefactor of the City of Pittsburg, KS and his alma mater Pittsburg State University.
A self-made man, Bicknell said that his father, a lead and zinc miner from Picher, OK, had the mentality that college wasn't important. Bicknell's work ethic was instilled in him as early as 11 years old when he took a job washing pots and pans in a bakery in Baxter Springs. He described the owner as a "difficult person" who "helped [him] learn how to get along with people."
Bicknell started his first business in Pittsburg. "Being poor and starting a business wasn't easy," he said. He remembers having to go to bankers in Girard because those in Pittsburg wouldn't loan him the $1,000 needed for the start-up. But from this humble beginning, Bicknell under the aegis of NPC International, Inc. has become the world's largest Pizza Hut franchisee with 834 stores and 20,000 employees nationwide.
Using the expression "termite control," Bicknell spoke of the importance of learning how to run a business on a shoestring. "Watch those inconsequential expenses," he advised.
Reminiscing about the pizza business he started in the old Anderson Western Wear building in Joplin, Bicknell remembers having 6 tables and 8 chairs, an oven that wasn't necessarily the right kind, and pans that didn't keep the pizza from sticking. Today NPC currently runs two Pizza Hut restaurants in Joplin and others in the local area, including Carthage, Neosho, Frontenac, Girard and Pittsburg.
"It's all about people!" Bicknell said. "You can't do it alone. You have to be able to pass your ideas, culture, and business ideology to them...training is essential, re-training is imperative." He said that with businesses spread out "from Delaware to Portland, OR," single leadership is obviously impossible. Motivating employees and instilling a strong work ethic, he said, requires giving them good pay and constant recognition.
A successful leader, he believes, is one that has the same attributes as a good coach. One of the top skills that he enumerated was being a good listener. He said you "can't hear a thing with your mouth open." And the day you quit learning from listening is "the day you go the other way."
Being sincere and knowing the character and strengths of everybody on the team are edicts he employs. "Talk to the guys on the product line...get close to the people," he said.
Another important attribute that he considers significant is intuitiveness, recognizing change before it occurs. As an example, he mentioned that the leaders of A&P, Safeway and Sears had not recognized the change that led to their competitors' successes and their eventual downfall. Company transformation requires a sense of urgency. He fostered this do-it-today philosophy, he said, when he lived alone and made a habit of washing his dishes after he used them. He didn't let them pile up.
Aside from NPC, Bicknell's organization includes three domestic plants of Pitt Plastics, Inc. (manufacturer of polyethylene can liners and other types of packaging and storage bags) and affiliates in Asia; National Mills, Inc. (manufacturer of t-shirts and provider of other screen printing services) with affiliates in Latin America; and M.S. Productions, Inc. (an oil development and reserve operation). In partnership with a Canadian scientist working with resins, the organization also includes Zouire, a national promotional apparel and supplies company.
Venturing into the entertainment business always has been a kick for Bicknell. In 2000 he recorded the CD, "Because I Love Her" for Ring Tail Records. His current investments in the Branson entertainment scene include the Doug Gabriel Morning Show, Celebrate America, and The Promise, a new Broadway-style musical depicting the life of Christ.
In addressing his defeat running for governor of Kansas in 1986 and 1994, Bicknell said he wouldn't run for governor again. He told everyone that he "got beat up pretty good" from it and "was better off not winning" but "learned a lot" from the experience. "When you learn something, you're ahead," he reiterated.
Bicknell's road to success in America is summed up in his self-published book, Never Fry Bacon in the Nude. "If you're not prepared and in the proper frame of mind (properly clothed), you run the risk of taking some pretty heavy-duty burns in some not-so-nice places," the introduction says.