Plant an air conditioner
March 15, 2006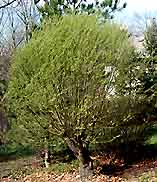 This ornamental willow does not fall in the shade tree category. Situated on the northwest side of the house, it has been uprooted by four major wind storms. The last time it was righted through the use of a winch and pulley. Will it be saved a fifth time?...Probably. It has Biblical powers.
Sponsored by the Missouri Department of Conservation-Joplin office, a workshop entitled "Tree Selection and Planting" will be held at the Walter Woods Conservation Area south of Joplin beginning at 6:30 p.m. on Monday, March 27, 2006. The workshop will be conducted by urban forester Jon Skinner. There is no charge to attend.
Summer is coming and high air conditioning bills with it. People can lower these future air conditioning bills by planting trees is the advice offered by Skinner who suggests the direct shading of buildings, driveways, streets, air conditioners, and lawns. Everyone enjoys sitting in the shade on a lazy summer day. Skinner believes that your home will, too.
Skinner says that during the summer, heating of buildings by the sun occurs mostly in the morning and late afternoon due to the orientation of the sun in relation to the building's windows. Blocking the sunlight from entering windows will reduce the need for air conditioning by 10 percent. To get the most benefit, plant trees on the east – southeast and west – southwest sides of your home. Planting on the south has less effect due to how the the sun tracks across the sky.
Picking the right tree(s) and correct planting methods are important, according to the forester. Selecting the wrong tree and/or planting it incorrectly will cause headaches in the future and cause the tree to suffer as well. Skinner says that "the Missouri Department of Conservation wants you to have all the knowledge available to make the best decisions about your tree."
For more information or directions to Walter Woods, please call the MDC Joplin office at (417) 629-3423.