At candidate forum many questions go unanswered
March 28, 2006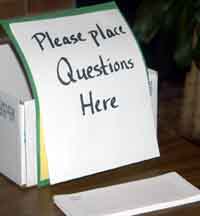 JOPLIN - Prior to the forum for council candidates sponsored by the Republican and Democratic clubs of Missouri Southern State University, the public was invited to submit questions that they wanted the candidates to answer. A box was provided outside the door of Cornell Auditorium where 15 of the 17 candidates eventually would be convening. Joplin Daily reporter Michelle Pippin in her article, "Council candidates tell all in MSSU forum" was incorrect when she stated that "after the opportunity to introduce themselves to the two- to three-dozen audience members present, candidates gave their responses to questions posed by audience members via a drop-box provided before the forum."
In the hospitality room provided for the candidates to meet the media Tom Simpson, Missouri Southern political science professor and moderator for the evening's event read off some of the questions that came from that box. There was some laughter. There was some discussion, especially when general candidate W. Ryan Jackson, who works as senior vice president for G.F. Wiedeman International, in hearing a question about cleaning up the railroad salvage yard on Main Street said that it would be a "big hairy mess" if he had to respond to it.
What was interesting about the whole scenario was how it echoed the unified complaint of the candidates supported by the Citizens for a Better Tomorrow--that the voice of the citizens was not being taken seriously.
Blaming time constraints, Simpson dismissed all but one of the citizens' questions in favor of these pre-selected three which he then revealed to the candidates in advance:
What qualities will you bring to the city council?
Please identify two or three major issues confronting the city.
What is your vision for the City of Joplin?
Fifteen candidates for the 6 council seats had different approaches to garnering the vote. Some were casual and comedic, others checked their notes often to organize their thoughts, and the incumbents relied upon experience in office as the convincing factor. Pictured from L-R are 5 of the 17 candidates. They are David Carey, Mayor Phil Stinnett, Don Landrith, Gary Shaw and Naomi Ruth Hunter.
The forum began with the candidates in groups of three rattling off who they were and consequently in part answering the first question to be posed. All were present except Vesta Grindstaff, the appointee incumbent from zone II, who recently lost her husband and general candidate G. Malachi Blaxton, the Missouri Southern student calling himself the voice of young people, who had excused himself earlier due to a conflict. The candidates either wanted to impress the audience with their localness, their stability, their wit, their educational background, their business acumen, or in the case of the incumbents, their hands-on experience. Incumbent Mayor Phil Stinnett running for one of the three general seats directed his comments to the supporters of the Citizens' group when he said that experience directly gained in government was different from that gained in business and that it was common sense to build a coalition of 5 people that wanted what was "best for the community" rather than just "one group of people". On the other hand, Melodee Colbert running against Grindstaff said, "We are all qualified...but pick people that mesh together." She wants to shake up the status quo with "different kinds of leadership" bringing "new ideas."
What should have brought the biggest snicker from the audience was Simpson's remark to the candidates before asking the first question. He said, "You are an entertaining group if nothing else." And his comments may have been directed toward general candidate Imma J. Curl whose flaming red hair was as much a standout as her sense of drama. She did introduce herself as a magna cum laude theater graduate and someone very knowledgeable about cars.
A few of the candidates, such as zone I candidate Gary Shaw who currently serves as executive director of the downtown Central Christian Center, have lofty motives, he said, for seeking re-election. "What God wants him to do," he said, is "to help people." Shaw stressed the need for "community pride" and said that "everyone should get involved to make Joplin a better place."
General candidate Naomi Ruth Hunter said she was both the daughter of a preacher and wife of a minister. She confessed that she "hates politics". "I'd "sing for Lawrence Welk. He just never asked me," she announced. And Jackson called himself a "visionary," a term the city manager used when he competed for office.
Citing his experience as a real estate broker, general candidate and incumbent Mike Woolston said he was a "big believer" in economic development. He sat on the council when the TIFF project was approved allowing retail expansion on Range Line Road to use money meant to improve blighted areas. Although he equated this expansion with jobs as did zone IV candidate and incumbent Jon Tupper, many of their opponents were not impressed by the pay scale that these jobs offer.
Tupper's reference to the so-called "chamber incubator" and Woolston's to Gestalt didn't bring a whimper from the candidates even though over $10 million in federal grant monies brought Gestalt to Joplin with its less than two dozen employees, probably all of whom were brought in at high-paying salaries.
What the opponents to the incumbents did harp on were issues they perceived to be of more concern to the people: more cops on the street, better fire protection and a more people-friendly handling of code enforcement. Nobody chided Tupper for having called attention to Roy Blunt's observation that the Newman Building was the only city hall with a chandelier, considering their belief that many homeowners in town can't afford to buy a can of paint to adhere to the controversial city code. But zone IV candidate Gary McKinney had an answer for how to finance additions to the police force. He came up with a figure of $320,000 yearly just by adding up the fines for intensive DWI arrests.
Making sure that he was the last person to speak, Tupper further outlined where Joplin was today and asked what would the council 30 years ago think. While he admitted to being personally excited over the prospect of catching up to the expansion of the Springfield area, he seemed not to take into account what the people might think. Everyone with knowledge of the past knows that the early leaders of Joplin held back on progress even by making developers of the Northpark Mall seek financing out of the area. Springfield has expansion issues and a cost of living that is at least 10% higher than Joplin's. So, Tupper's "hang on, we're gonna be there" might not be a popular election slogan without a lot of explanation.