Intrigued by bats? Come meet Batman
April 03, 2006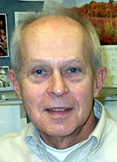 "The Bats of Kansas" is the topic of this month's meeting of the Sperry-Galligar Audubon to be held beginning at 7:30 p.m., Thursday, April 27, 2006 in Room 102, Yates Hall, Pittsburg State University, Pittsburg, KS. The guest lecturer is Stan Roth, affectionately known as "Batman."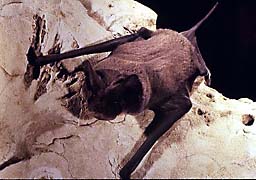 The Brazilian Free-tailed Bat Tadarida brasiliensis mexicana (Saussure) may be found in Kansas, the northwestern edge of the breeding range of this species. As with other bats in Kansas, they are harmless to humans, according to educator/naturalist Stan Roth of Lawrence.

Now retired from teaching high school science in Lawrence, Roth, 70, knows the Gyp Hills, the home of the Big Gyp Cave, and Barber/Comanche counties intimately. He received a Master of Science degree in biology from Kansas State Technical College in 1959 and has developed an intense interest in bats ever since.
He assumed the Biology Section Chair of the Kansas Academy of Science and currently is an adjunct research assistant for the Kansas Biological Survey with an office at Kansas University in Lawrence.
A former student, quite complimentary of Roth's teaching style, is known to have said that no one missed Roth's classes even for a doctor's or dentist's appointment, said Robert J. Mangile, spokesperson for Sperry-Galligar, who encourages everyone to come meet Roth whom he describes as a "colorful fellow".
The meeting will offer free refreshments and a door prize. The public is welcome to attend; there is no admission charge.