Oklahoma museum receives large comics donation
May 13, 2006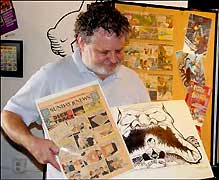 Michael Vance, noted author and curator of the Oklahoma Cartoonist's Collection, displays the newest additions.
The Toy and Action Figure Museum, home of the Oklahoma Cartoonist's Collection, received a major gift of more than 2,000 comics books, magazines and strips.
Dr. Jon Suter, Director of Libraries and a liberal arts instructor in the graduate program at Houston Baptist University, recently donated this large collection featuring the work of Oklahoma cartoonists, including his own. A former librarian at East Central University in Ada, Suter now also teaches a course in the history of comic books.
Born in Holdenville, Suter was among the earliest major collectors of comic books and strips in Oklahoma. His donation of more than 1500 comic strips includes Dick Tracy, Broom Hilda, Alley Oop, Glamor Girls and the editorial cartoons of Clarence Allen. In addition, he has donated more than 500 magazines collecting comic strips and/or featuring articles on the history of the art form.
The Oklahoma Cartoonist's Collection already features the work of more than 50 Oklahoma cartoonists and their associates. The Toy and Action Figure Museum currently showcases over 7,000 toys, 300 pieces of original comics art and books and magazines on comic book and strip history.
"My goal is to expand our existing display for the enjoyment and education of the public," said Michael Vance who procures and prepares materials for museum's collection. "We will soon be adding more than 100 pieces of original art. This will include expanding the collections of cartoonists already in the Toy and Action Figure Museum like Dave Graue (Alley Oop), E. Nelson Bridwell (Superman) and Stan Timmons (X-Men). It will also include work from new members like editorial cartoonist Chan Lowe, Frank Bolle, who draws the comic strip Apartment 3-G; Clarence Allen, one of the earliest editorial cartoonists in the state; and Jaxon Renick, who worked for Marvel and DC Comics."
This unique museum that requires several trips to enjoy fully is located at 111 S. Chickasaw in Pauls Valley. For more information, go here or phone (405) 238-6300.