Pro-life reigns; major taxpayers rewarded
July 12, 2006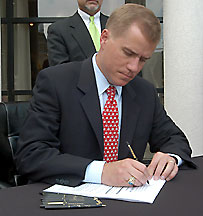 Life Choices in Joplin was one of five pregnancy resource centers at which Missouri Gov. Matt Blunt yesterday signed legislation creating tax credit programs that will benefit them, children in crisis, as well as many taxpayers.
Missouri House Bill 1485, sponsored by Rep. Allen Icet (R-84, St. Louis), authorizes an income tax credit for 50 percent of contributions to qualified pregnancy resource centers that provide assistance, support, and an opportunity to choose life for women who are facing an unplanned pregnancy. The bill specifically stipulates that donations be made to those centers that support women with crisis pregnancies or unplanned pregnancies to encourage and assist them carry their pregnancies to term. Those agencies deemed qualified after applying to the Department of Social Services will be entered on a list submitted to the Department of Revenue. The bill also has language that disallows those agencies like Planned Parenthood that consider abortion as an option.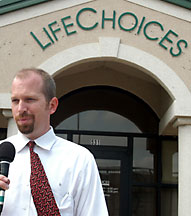 Phil Gloyer, chief executive officer of Life Choices of Joplin, said he considers abstinence a predominant life choice. In addition to providing medical services like ultrasounds and similar treatment for women who are pregnant, his agency has been finishing out a federal grant that educates public school students in what he considers keeping "ahead of crises." He wants these students to "think about the consequences and risks" and "to make healthy decisions". With no state funding Life Choices has relied on donor support for the work they do, including the 1854 client visits and the 800 pregnancy tests made in 2005.
Taxpayers can claim from $100 to up to $50,000 per year but not more than the taxpayer's liability for the calendar year, with a yearly $2 million statewide cap. The tax credit may be taken against income tax, corporate franchise tax, insurance premium tax, financial institutions tax, and express company tax liability. It is not refundable but may be carried forward and claimed for up to four taxable years.
The bill also makes unused adoption tax credits available to entities that work directly with Missouri children in crisis. Child Advocacy Centers, Court Appointed Special Advocates, and Crisis Care Centers will now have access to credits that would otherwise go unused. The bill allocates $2 million of the tax credits for the adoption of special needs children who are residents of the state. The minimum amount of any tax credit issued under children in crisis may not be less than $50 and is subject to other tax code restrictions.
---
Rep. Allen Icet: ...a tremendous day for pro-life people to take a stand.
Rep. Ron Richard: ...it's easy to be pro-life and work as a team.
Rep. Marilyn Ruestman: (Recalling her role in the early days of a pro-life group at the Methodist Church) ...proud to be a tiny part of that.
Rep. Kevin Wilson: ...echo what everyone else said and thanks (addressed to the governor) for spending so much time in Southwest Missouri.
Sen. Gary Nodler: ...my wife Joncee was on board for a number of years (referring to Life Choices or its predecessor). ...a model for the country.
Nick Myers, Joplin CPA, Newton County Republican Central Committee Chair, and treasurer of the Nodler Leadership PAC: (to Gov. Blunt referring to pro-life issues) ...one of the reasons you were elected
---
Blunt called the bill a champion "for the cause of life" in Missouri. He called the tax credit program, highlighting the many merits of pregnancy resource centers and which obviously benefits the tax position of business as well as individuals, one of his priorities this session.
At the microphone is John Mc Castle, president and CEO of Alliance for Life of Branson West, MO. Before introducing the governor, McCastle called those assembled a part of the "most pro life government any state ever had." He suggested that the legislation promoting health and wellness issues would "impact the lives of women for years to come".
The mission statement of McCastle's organization claims "to promote, nurture, unite and expand the work of Christ centered pro-life efforts in the state of Missouri, acting with integrity and the attitude of a servant as modeled by our Lord Jesus Christ".
Pictured are (from L-R) Rep. Marilyn Ruestman (R-131), Rep. Kevin Wilson (R-130), Gov. Matt Blunt, Sen. Gary Nodler (R-32) and H.B. 1485 sponsor Rep. Allen Icet (R-84). Rep. Ron Richard, who eventually came to the microphone, is not pictured.
Last year, Blunt worked with members of the General Assembly to reverse the pro-abortion policies of the past. He signed pro-life legislation that reflects the values of Missourians including language to strengthen Missouri's parental consent law so that parents may be involved in and aware of their children's decisions regarding abortion; enact important safety standards, requiring physicians who perform abortions to have hospital privileges within 30 miles of the clinic where they perform the procedure; and ensure "next friends", those who have the authority to provide consent for abortions for minors, cannot be another minor or someone who would financially benefit from the abortion. Blunt is the first pro-life Missouri governor in years, and he will continue to fight for a culture that values human life.
The governor also signed the bill at stops in Columbia, St. Louis, Lee's Summit, and Springfield. The provisions of the bill will expire six years from the effective date. It is not known whether Planned Parenthood will seek redress in the courts. Other agencies testifying against the bill were the Missouri Religious Coalition for Reproductive Choice and NARAL Pro-Choice Missouri.
PHOTOS BY VINCE ROSATI