In an effort to help promote wreck less driving, Laszlo T. Laky, a public safety representative from Sitton Motor Lines, Inc., conducted a No-Zone demonstration. No-Zones are areas around trucks and buses where crashes are more likely to occur. Danger lies in these blindspots where vehicles are not seen from the view of a bus or truck driver.
The demonstration behind the Missouri Department of Transportation office on 32nd St. in Joplin was hosted by MoDOT's Motor Carrier Services Division as part of a free seminar July 21 to update motor carriers on the latest in commercial vehicle safety regulations and to show what the public needs to know when in the driver's seat.
A MINI Cooper driven by photographer Vince Rosati of Joplin was used to show how a vehicle close to the front of a semi "disappears" from the view of the truck's driver. Sitting in the semi was MoDOT's Jennifer Henson, who decided to check out the demonstration during her lunch hour. She was amazed over what she couldn't see.
Because the driver of a truck or bus needs twice the time and room to stop as cars, motorists are advised to look for the whole truck or bus in their rear-view mirrors before cutting in after passing them, and not to slow down.
Another danger is side No-Zones. "If you can't see the driver's face in his side-view mirror, he can't see you" is another warning issued by the Federal Motor Carrier Safety Administration. The administration warns that motorists especially must be vigilant if at the same time the truck or bus driver decides to change lanes when they are alongside.
Motorists who are in the habit of tailgating trucks also may be in danger should the truck drivers have to brake suddenly. Unlike cars, trucks and buses have huge No-Zones directly behind them, everyone was warned.
To help increase safety, Sitton trucks will be equipped with a radar warning device on the dash that will beep when cars are in the No-Zone, Laky said. The use of a TV camera also will be common, he added.
Seat belts save lives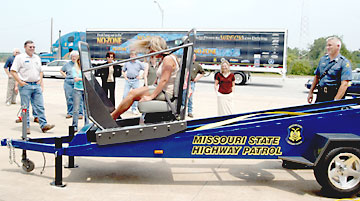 Kim Peavler's hair went flying after a simulated 5-mile crash. The object of a Seat Belt Convincer supplied by the Missouri Highway Patrol was to show that the use of a seat belt would keep a passenger in a vehicle from lurching forward and sustaining injuries.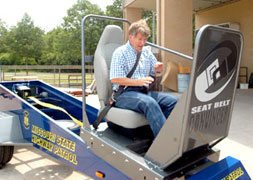 Kelli Miller, a trucking instructor at Crowder College in Neosho, also is restrained by the safety belt she wore during the demonstation provided at MoDOT's Motor Carrier Services Division seminar.
Sgt. Dan Brocker with The Missouri Highway Patrol provided its new Seat Belt Convincer to demonstrate the importance of buckling up before starting the vehicle. Convinced about what it feels like to be involved in a mere 5-mile crash were MoDOT employee Kim Peavler and Crowder College instructor Kelli Miller.
Drivers in only 25 states may be stopped by law enforcement for failure for an adult passenger to wear a seat belt. Missouri is not one of them. Officers in Missouri must have some other reason to stop a vehicle before citing such an occupant for failure to buckle up. While many groups protest laws mandating the use of seat belts, a study conducted in 2004 for the National Safety Council's Air Bag and Seat Belt Safety Campaign suggested that Medicaid reimbursement in the State of Missouri would be cut drastically if a primary safety belt law were implemented.
According to one official, 97% of MoDOT truck drivers wear seat belts. However, when driving their own vehicles, he said that the percentage fell off.
Other topics covered by the seminar included proper driver qualifications files, hours of service rules for drivers, maintenance file requirements, CDL and Class E requirements, drug and alcohol testing requirements, and federal and state rules and regulations.