Stuntman Trigger Gumm falls short of new record
July 24, 2006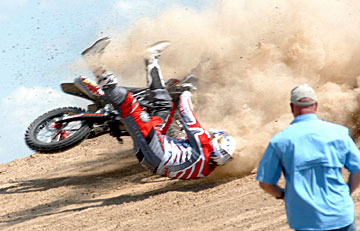 With his handler watching, Trigger Gumm slammed into the dirt ramp set up at Buffalo Run Casino in Miami, OK yesterday. Gumm, riding a custom Honda CR500, was attempting to break his record he set in Queensland, Australia in May 2005 in a ramp to dirt jump of 277.5 feet. (See note in forum.)
An official from the Guinness Book of Records as well as three ambulances were standing by as Gumm made several practice runs prior to the mishap, but, while he hit somewhere down the middle of the ramp, each time he appeared to fall short of the mark he needed to hit to break the record. His goal was 315 feet.
An announcement was made to the crowd that Evel Knievel with a lot of confidence in Gumm's ability sent his congratulations assuming Gumm's attempt wouldn't fail.
Although Gumm said he was going to try again until he made it, he hit high on the ramp at 90 miles per hour when he spun out and tumbled off of the side of the bike, ending up at the base of the dirt. Not present during his practice runs, mounted security officers quickly cordoned off the area preventing onlookers from interfering with ambulance workers.

---
Photos by Vince Rosati
---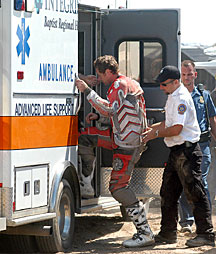 One of Gumm's handlers could be seen attempting to sit Gumm up, but rescue workers from the Integris Ambulance Service quickly intervened. Although seemingly shaken up, Gumm was able to walk unassisted to the ambulance and pull himself on board.
Most of the crowd of about 5,000 spectators who had paid to see the event remained standing behind a fence until being told that the event was over. Part of the crowded consisted of about 500 bikers and their passengers who had originated at Cycle Connection in Joplin as part of a charity ride for Muscular Dystrophy.