Discussion over Moark permit frustrates citizens
August 10, 2006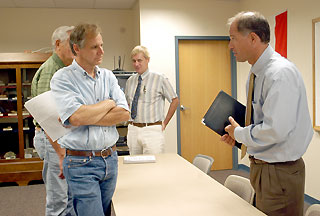 At left, Pete Boyt, a member of a group contesting the operating permit issued for Moark 7 Farms by the Missouri Department of Natural Resources, asks Harry D. Bozoian for clarification regarding the role the attorney general's office is assuming in the process. Standing by is Tony Dohmen, a MDNR representative, and hidden but listening in is Lee Van Otterloo.
The U.S. has sent soldiers into Iraq allegedly to fight for the establishment of a "democracy," but citizens from Southwest Missouri attending a hearing in Springfield question just what the right to free speech under a "democracy" actually affords them.
Fifteen members who have dubbed themselves Ozark Clear Water met at the Springfield office of the Missouri Department of Natural Resources yesterday to present a 3-page list of questions and demands regarding the issuance of an operating permit last November for Moark 7 Farms. Moark is a wholly owned subsidiary of Land 'O Lakes in Neosho, MO that produces eggs and egg products. Most of their appeal centered around the need for stronger language in the permit and follow-through by the MDNR for its compliance. All their demands addressed the need for prevention of damage to the environment, a practice, they say, regulatory agencies persistently fail to do.
Among the specifics, the group wanted more clear language for air monitoring, the installation of a test well to monitor water table status, making older facilities meet clean water standards, the use of unannounced inspections and oversight by members of the Newton County Health Department, testing of fecal samples locally rather than sending them to Minnesota, designating the composter as industrial rather than agricultural or phasing it out altogether, allowing odor sampling on Highway D and the use of properly secured tarps over the trailers hauling manure, both coming and going from Moark's facility.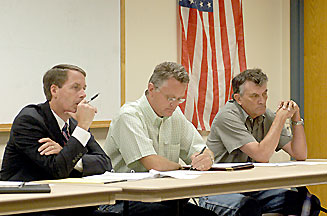 Along with Bozoian and Dohmen seated at the head table at the meeting held at the MDNR's Springfield office were from L-R attorney Robert Brundage and Moark representatives Dan Hudgens and Huge Vogel.
Facing off against the group was a representative from the MDNR; the moderator, a member of the Missouri attorney general's office; and two representatives from Moark and their attorney. What became quite evident to May Belle Osborne, who had accompanied her husband Mark Adams, one of yesterday's spokespersons for the clean water group, was that they were perceived as the "enemy" and that although the role of the attorney general's office included representing the people, in this case Harry D. Bozoian aligned with Tony Dohmen, MDNR's representative, simply appeared to be rubber stamping the interests of Moark and the MDNR. When we asked how he represented the people in this issue, Bozoian referred us to the public relations department of his agency.
Bozoian and Dohmen met privately with Moark's Midwest Regional Manager Dan Hudgens and By-products Manager Hugh Vogel and their lawyer Robert Brundage of a Jefferson City law firm on two occasions, once causing a delay of the meeting for over 30 minutes which might have had something to do with knowledge that there was member of the press in the room. The other occasion, spent in closed session for over an hour, came after hearing the group's demands. What was discussed at these meetings was unclear, but it soon became evident to the plaintiffs that they weren't going to know what it was. Although Bozoian revealed that they engaged in a "fair amount of discussion" on each point the group brought up and that it was "fair to say...generally speaking some can be done, others not," he implied that the upper management of the DNR and Moark would have to get together at another time to allow Moark an opportunity to decide what demands, if any, to address.
Let's "not say this was a fruitless exercise," Bozoian said, referring to the attempt by his office to keep the legal process going. He told the group that they had the right to contest the permit and that some issues the group raised "definitely" would be discussed between Moark and the "upper management" of the DNR, involving, of course, Doyle Childers, the director, some say was handpicked by Gov. Matt Blunt to foster the governor's pro business agenda.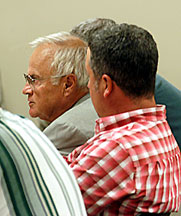 Dr. Richard Betz, seated with the group of clean water supporters, answered that he'd "like to think there is a will to do this". "You know where we stand; we don't know where you stand."
Betz specifically wanted the issue of dead chickens addressed before the meeting adjourned. His concern, although directed at the Moark representatives who sat mute, was quickly answered by Camille Dobler, who was sitting in the back of the room with other MDNR personnel. Dobler is an environmental specialist whose voicemail was swamped earlier this year with complaints regarding odor violations coming from Moark's composter facility.
Dobler's response, which met with an incredulous look from Betz, was the assurance that the dead chickens, not the spent hens, were being bagged in plastic and brought to a landfill. The anticipated mortality of these birds on a yearly basis is one half million.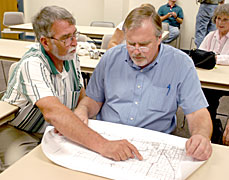 Checking a chart is water specialist Bill Miller and fellow stream team member Mark Adams. Both were concerned over the jump in e coli counts taken from streams after a rain in areas where an increasing amount of litter is spread.
A follow-up question from Adams as to whether there was a program in place for tracking spent hens also was answered by Dobler. She referred Adams to George Parsons, a controversial inspector for the DNR who, she said, would have been following up on it. He was not present.
The only request nixed by Bozoian was to have all fines collected by the DNR directed to the Newton County Health Department. By law, he said, all fines must go to the school kids.
Bozoian promised to write a letter to Adams by about August 16, 2006, answering some but not necessarily all of the issues the group raised.
The eight petitioners for Clear Water included Lee Van Otterloo, Pete and Dave Boyt, Rick Bussey, Robert Carter, Miller, Betz and Adams. Other members of the MDNR present were Regional Director Cindy Davies, Water and Land Section Chief Mark Rader, Water Pollution Unit Chief Kevin Hess, Barbara Li from the Jefferson City office, and ombudsman Carrie Smith of Marshfield. Dave Woolery of Branson introduced himself as an "interested party" although he had been appointed an ombudsman at the same time as Smith.
"Everybody is paid to be here," Adams quipped, "except us."