McCaskill supporters pack Democratic headquarters
November 02, 2006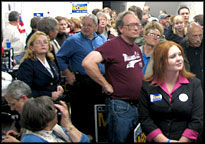 The Democrats may have surprised themselves when they packed their headquarters at 1804 Main St. in Joplin last night. Many even spilled out onto the sidewalk. They were awaiting the appearance of Claire McCaskill, Democratic candidate for the U.S. Senate seat from the State of Missouri held by Republican incumbent Jim Talent. Quite a few said they had never been to a rally before.
"It's nice to see all the people here," said Paul Bond. He used to be a Republican, he said when he lived in Oklahoma, but disgruntled over the Foley scandal, he said he changed his party affiliation since moving to Missouri.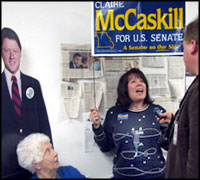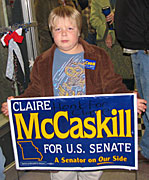 South Middle School teacher Linda Weaver, holding the McCaskill sign, admitted to John Hacker, editor of the JoplinDaily.com, that she was tired of just seeing articles in the Joplin Globe during her interview with him. Looking on is her mother, Anna Gillis who admitted to supporting McCaskill for her stand on education. Overhearing their conversation is former President Bill Clinton, at left, wearing a Clinton button, "Bet you miss me now".
Proudly displaying a Claire McCaskill sign, at right, is Kobe Collins, an 8-year-old from Joplin.
"I like this standing room only," Cliff McCann of Joplin said. He claimed to be born a Democrat. McCann, who was accompanied by his 9-year-old daughter said he was especially concerned for her future. "I don't want her to have to join the army in order to go to college," he said.
Outspoken about the Senatorial race, he said he was appalled over the telephone calls he had received from the Talent camp that he said attempted to use scare tactics to get him not to vote for McCaskill.
"Jesus is not a Republican; do they know that?" McCann quipped after Elliott Denniston opined that fundamentalists do not read the New Testament. Both agreed that valuing the poor, as the New Testament suggests, was not a conservative Republican value.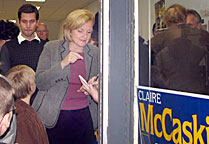 McCaskill who came in the back door of the Joplin Democratic headquarters with her media person, eventually made her way through the crowd shaking hands and conveying a "down-home" personality. But first as the television cameras rolled, she outlined her campaign that she described as "all about change".
McCaskill said she was an independent voice coming from an independent place--not from lobbyists. She called for a Democratic shift in Congress and the need for checks and balances, "the need to check on that other branch of government." She said she wants "to deliver Harry Truman's Senate seat back to the working class."
She spoke about the President's drug bill profiting big drug companies, about tax breaks only benefiting the wealthy, about the skyrocketing cost of college education, about changing the course in Iraq and doing something about war profiteering. She questioned how $350 billion could go to private contractors like Halliburton, Parsons and Titan, how $9 billion of it could "disappear" but that "they couldn't get armor for the soldiers" serving in Iraq.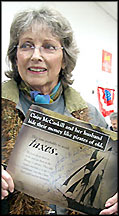 Holding an advertising pamphlet she and her husband Mark Adams received in the mail from the Republican National Committee is May Belle Osborne. They had the pamphlet, an attack on Claire McCaskill and her husband, autographed by McCaskill who wrote, "Don't believe what you read."
McCaskill called Talent an "unwavering supporter of Bush" and regarding Bush's appearance at a Republican-sponsored event at Missouri Southern State University scheduled for Friday, suggested that it was "just right he should come here to support him." She thought it was a "close call" as to whether Bush will motivate the Republican base.
While she confined her attack on her opponent to his lack of participation in hearings--especially regarding the over extension of the military, she said she thought Talent's campaign advertising "crossed the line" in his personal attacks on her. "He's never run a campaign like this before," she said, and thought it was "clear that Missourians have not bought into his smear tactics".
McCaskill said she made the mistake the last time she campaigned of not coming to places like Joplin. She said she never has seen this many people in Joplin come out for a Democratic event, that she was "humbled by their patriotism," and that she hoped her message was "not about powerful people" but about "empowering people." She wants people to say, "This is my government. It belongs to me."