MoArk issued new notice of excess emissions
November 18, 2006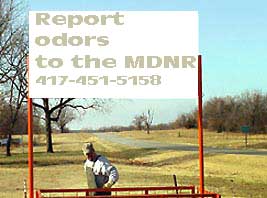 The MoArk facility in Neosho, MO has received a notice of excess emissions in response to an odor complaint filed by Ervin Bussey of Mink Dr.
Bussey was notified of the excess odor notice issued to MoArk 7 Farms on November 13, 2006 by letter dated November 17, 2006. It was written by Paul F. Vitzthum, chief of the air pollution unit, Southwest Regional Office of the Missouri Department of Natural Resources.
The MDNR staff from the Neosho Satellite Office claims to have identified noticeable odors on November 2, 2006 in the morning en route to their office. According to Vitzthum, after returning with sampling equipment, the staffers obtained two detections of odor through the use of their scentometer on the National Guard property to the north of the composting facility. The Guard previously had given the MDNR officials permission to come on their property any time they needed to check for odors.
The air samples were then sent to St. Croix, a laboratory in Minnesota, and were found to be above the regulated detection threshold.
Like RES in Carthage, the processing plant recently issued a similar notice, MoArk will have an opportunity to respond to the odor allegations. Without a proper excuse for the excess odor, the MDNR will issue a notice of violation leading to possible fines.
Vitzthum has told Bussey that the staff has been directed to continue regular monitoring of the area during the morning and afternoon hours in addition to responding to ongoing complaints when they are available. Anyone with an odor complaint is directed to phone (417) 451-5158.