Pin the tail on the Branson Board of Aldermen
November 30, 2006
Larry Dapprich of Branson says that Joe Johnson is not the kind of lawyer the city of Branson should be hiring. His wife Pam agrees with him.
The Dapprich couple bore the brunt of an initial letter writing campaign authorized by the city to get them and others outside of the city limits to stop using the name of Branson as part of the name of their businesses. Johnson's law firm Lathrop & Gage of Springfield was retained to assist city attorney Paul Link in this effort.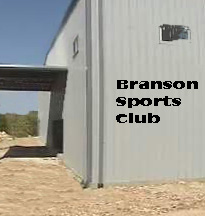 Larry and Pam Dapprich own the Branson Sports Club, a non-profit facility located just north of the Branson city limits that subsidizes the costs of sports participation for needy kids. They hired their own lawyer after receiving one of Lathrop & Gage's harsh "cease and desist" letters.
In defense they said their business name had been registered with the office of the Missouri Secretary of State about three years ago and that besides their reputation being based upon that name, they owned a substantial inventory of tee-shirts and office supplies with the name on them. They considered the letter that they had received harassment or intimidation.
The public outcry against the Branson Board of Alderman's expenditure of taxpayer money for what they consider a ridiculous policy brought about a re-reading of a decorum ordinance by Link that, when enforced, is intended to bar further audience disruptions during board meetings. It also silences anyone whom the board thinks is speaking beyond the subject at hand or who uses improper language. Link also reminded the audience that there was no state or federal law requiring public input on an agenda item.
And, perhaps, the public that filled the board chambers on November 27, 2006, should have heeded Link's warning. After a session that dragged on for hours after several dissenting citizens took the microphone, the board voted in favor of their own proposal with only one dissension, that of Alderman David Edie. Naturally, a suggestion from an audience member that the board already had made up its mind on the issue was denied.
The crux of the issue was that the city wanted to lay the groundwork for blocking the use of the name "Branson" by what they termed "unsavory" businesses operating predominately outside of the city limits. In order to do this Johnson recommended that existing businesses using the name be sent letters. These initially contained harsh legalese language but later were toned down after one of them was sent to a business with some clout. It should be noted that after the city "reviewed" each business, it gave approval for the use of its name.
Johnson made no reply to the question of defining "unsavory" nor did the board members comment over its use as an excuse by future boards to prohibit businesses that they don't like. The board also refused to consider that the concept of "Branson" could extend beyond its official borders or that someone could secure a post office box in Branson and use it as a business address.
Arguments presented by Johnson to move ahead with the measure included an obligation to taxpaying entities within the city limits. He said that use of the Branson name outside of the city limits--that he labeled a "geographic misdescriptive"-- suggested "an affiliation that unfairly levels the playing field". He cited a negative impact on other trademarks when waiving rights to the city's name, the need to limit the use for all businesses to avoid the use for those not wanted, and to protect the Branson image by avoiding a negative situation in which tourists might have a bad experience at a Branson named business outside of the city limits. He stressed that failure to take action now would jeopardize being able to do anything in the future. And how would this opposition to the use of the name Branson be supported, but, according to Johnson, by common law.
"How legalistic our little town has become," commented John Logan, a long time resident of Branson and former director of its chamber of commerce. He compared listening to "barristers" to "Jesse James guarding the bank".
Logan said that he made a Sunshine request for copies of the letters that the city attorney and Lathrop & Gage had mailed out. He said he received seven out of the total of about 15 initially distributed. (The number mentioned at the meeting seem to vary). Logan was upset over this discrepancy. He also was upset when he read in the letter directed to the Dappriches that if they wanted to use the name "Branson," that they could annex their property to the city.
Johnson probably didn't like the applause that Pam Dapprich received when she stepped away from the mic. The point she made was that the name Branson was receiving plenty of "unsavory" use on the Internet like "BransonSex.com"...Johnson just had to google it. She wanted to know why letters weren't sent out to the domain owners but finally concluded that city tax dollars could better be spent.
Johnson retaliated. He said that he was "not sure what she was doing there" and that "if folks take pot shots, then I'll take pot shots back." He argued that it was difficult to challenge the use of a domain name.
In a prepared statement to the community, Pam Dapprich writes:
I am very upset with the phone calls that I have been receiving today [Nov. 28, 2006]. I want to make it very clear that I do not look at porn sites as insinuated by Joe Johnson from Lathrop & Gage.

I went to a domain name site "www.namedroppers.com" and got a list of businesses with the name of "Branson" in them that had words that referred to what Alderman Huff brought up as an issue. I am a preschool teacher for 13 years and a volunteer coach. My reputation is very important to me. It is my livelihood. I don't drink. I don't smoke. I am a Christian, and I am a mother of three kids to whom I am very dedicated. In no way do I look at porn sites.

My husband works only on our mission to help others through the Branson Sports Club. He has delayed working for income because we felt that setting up to help kids was more important. He volunteers more than 80 hours a week to the club. The only income that we have to pay our bills is that income from the preschool. I have put my land and my home up as collateral for a loan to make the Branson Sports Club possible. I am very dedicated to this mission. I have worked with thousands of kids over the years.

Currently, I work with over 100 kids on different ball teams, at after school programs and at the preschool. To insinuate that I am a pervert or a possible sexual deviant is not only disgusting but is effecting the only source of income that we have to support our family.

Where were the decorum rules for Joe Johnson? Not a single member of the board of alderman, the city administrator, or the city attorney--even after a presentation was just given by the city attorney on decorum rules-- made an effort to stop his comments, (but those in the audience noticed). When I quoted their conflicting statements they stopped me from speaking. I do not operate "Big Ones" learning center and I resent the threats from the city regarding the initial letter and the ultimatum to annex, and I am abhorred that the city continues their abuse by having their lawyers ruin my business with their slanderous statements.

It was clarified by the city last night that Joe Johnson is hired by the city of Branson and that he represents the City of Branson. So now, is the city condoning Joe Johnson's slanderous remarks by completely ignoring this issue? How can we "fix" what he has said when we are still trying to get an apology from them for their initial letter?

The city says they are concerned over protecting the value of the the name "Branson," but what about the value of my name and reputation?
Plenty of armchair lawyers are getting into the foray saying that the right of censorship will not be enforceable. So, whether the Branson city fathers will be able to stop a Branson Casino or a Branson Porn Shoppe from being established outside of their city limits remains questionable. What we do know is that the city listened to their hired hand rather than their citizens. And that was a mistake. Maybe, the entrepreneur Richard Branson of Virgin fame for a little fun might like to put his surname to a Branson area business the aldermen would be forced to live with.....