Piece of New York City history heads to auction
January 09, 2007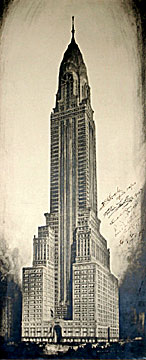 An autographed print of artist/architect Hugh Ferriss' rendering of the Chrysler Building, that is said to depict his vision of the building just prior to its completion, is hitting the auction block. Considered an important piece of New York City history, this print will fall to the highest bidder on January 27, 2007. Featured as Lot 100, the print is part of the trust of Margaret R. Mack in an auction conducted on the trust's behalf by John Farkas and Connie Rose of Antiques and Estate Auctioneers of Wellington, Ohio. Internet bidding will be available here.
The recently discovered print measures 38.5" by 16", and is signed and dated with the signatures of: W.P. Chrysler, William Van Alen, Frank B. Rogers, Louis T.M. Ralston, Harry Gold and Stanley H. Ross. The vast majority of Ferriss' works is housed in museum collections, such as the large collection held by Columbia University.
Hugh Ferriss (1889-1962) was trained as an architect at Washington University. He was quite talented in that field, but early in his career, he discovered that he preferred to create architectural renderings of other architect's works, rather than designing his own buildings. His skill as an architect and his artistic talents as a delineator of architectural design, including the Woolworth Building in New York City and the Chicago Tribune Tower, soon led him to become a sought after freelance artist and architectural illustrator.
The Chrysler Building is located in the midtown Manhattan borough of New York City. It was designed by Van Alen, and is often lauded as the icon of skyscraper architecture and the epitome of Art Deco design. The ground breaking took place on Sept 19, 1928, and the opening ceremonies were held on May 28, 1930. The Chrysler Building was the world's tallest building for a brief time until it was surpassed by the Empire State Building in 1931. It retains, to this day, the distinction of being the world's tallest brick building.
(Note: The digital reproduction of the print shown here should not be considered representative of its actual appearance. The print should be viewed during the live auction at 44777 St. Rt. 18 E. Wellington, OH.)