Residents to DNR director: RES still stinks
January 11, 2007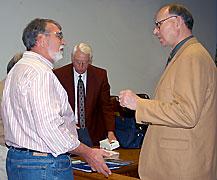 Bill Miller, a Newton County resident and a leading clean water advocate, expresses his concern to Missouri DNR Director Doyle Childers that not enough is being done to protect the state's waterways. Ombudsman Dave Woolery, whose significance has been questioned in view of reported budget constraints, is standing in the background. About 50 people showed up in Carthage where the major concern deals with odors from the RES plant.
How to prevent environmental problems from happening and helping permit holders get in compliance through automation and simplification of the process were ideas put forth by Missouri Gov. Matt Blunt to address the worsening environmental conditions in the state. These suggestions were reiterated by the Department of Natural Resources Director Doyle Childers at the second of three public forums in Southwest Missouri. Childers and some of his staff met county officials and concerned citizens at the Jasper County Courthouse in Carthage last week after a stop in Joplin.
Although no odor was coming from the Renewable Environmental Solutions (RES) fat-rendering plant in Carthage that day, it was a topic that Trisha Orr, a local resident and champion for clean air, made sure was addressed.
Alluding to the seven notices of violation RES received due to negative pressure exerted by citizens and the subsequent intervention by the Missouri attorney general and governor, Childers said that the several million dollars the company had to spend for odor remediation (actually the odor scrubbers were subsidized by a $12 million federal grant), in his opinion involved major changes. However, he backpedalled by saying that because of a "combination of odors" in the RES location, odors in that area will never totally be eliminated.
A debate ensued between Childers and Orr when he claimed that he had heard from a "sizable number of people [RES workers?] that the odor situation "has been improved." Orr begged to differ with him citing the number of people--citizens from in and out of the city limits--complaining to her about the odor that was affecting their quality of life.
As for Childers' previous example citing a complaining gentleman who built a nice home near an established farm, Orr, an area resident since 1973, said that she didn't build her house next to RES and start complaining about it.
"I don't know how you can deal with that material in the heart of the city and not have problems," Childers said, surprising everyone with his comment.
The politics and power wielded by Brian Appel, CEO of parent company Changing World Technologies and RES, audience members agreed, continue to be hard to reckon with as his company and its "green" technology gone awry continues to be supported by federal tax dollars.
Regarding Orr's investigation into planning and zoning in Carthage, she said she has gotten the "biggest runaround and still is to this day."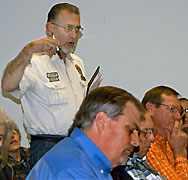 Frank Martinez, standing, questions DNR Director Doyle Childers about his agency's handling of the pollution of nearby waterways. Childers suggested that there was little money to keep up with the problem. Martinez said there was just so many times his group could request money from the Helen S. Boylan Foundation, the local supporter of educational programs.

Stream teams represented
Frank Martinez, advisor to the Carthage High School student stream team, was told that the DNR doesn't have the funding to post warnings on the streams. Martinez, whose group has documented excessive pollution in nearby waterways that is hazardous for body contact, is very concerned over the DNR's inability to monitor the streams or warn the public about their hazards.
At this point in the conversation Childers referred to a "hey, stay out of our lives" philosophy that, he said, citizens embrace until there's a problem. Childer's agency has passed the blame for their ineffectual handling of environmental issues on to citizens' opposition to county zoning that would have controlled who their neighbors were or what they did.
Bill Miller of Goodman who works with the Newton County Health Department's stream monitoring program, asked if the DNR would consider reimbursements for county testing of streams. Although it was something that Childers said his department would look into, he still cried poverty when the suggestion was made that the DNR provide E coli testing equipment for all of the state's stream teams, a project that he estimated would cost $1,500,000 and out of what he described as basically a "fee-driven budget." [This comment makes one wonder what the significance of stream team testing is that would close down a major source of DNR funding. With the exception of baseline reporting, it's back to counting what's found under rocks for the stream team members whose data can't be presented with authority in a courtroom anyway.]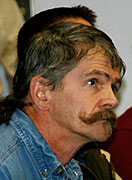 No event is complete without the presence of George Parsons, an inspector with the DNR. Parsons did not comment at the Carthage meeting, but was in the area to inspect the charge that Missouri Farms Dairy, a 1200 cow operation northeast of Carthage, had allowed waste water to flow from its lagoon into Dry Fork Branch in violation of its permit. Parsons, while at the facility, allegedly noted some violations but did not find them to be of an emergency nature.

Other issues
One member of the audience questioned why recycling can't be mandated. Childers tossed the possibility back to the solid waste districts that are federally funded through grant money. Childers called Missouri "one of the leading states in the nation reducing waste."
The issue of people having to re-drill their 200-250 foot wells to 450-600 foot levels was met by Childer's remark that improperly managed septic tank systems are the main threat to private wells.
On the subject of water shortage, Childers said that the Dakotas' draining of water from the Missouri River was having its impact not only on water supply but also on the cost of running electrical power plants. He called attention to the critical importance of saving every drop of water in the watershed rather than letting it run away.
Herman Lloyd who said he has about 35 head of cattle on property adjacent to Leggett & Platt's corporate headquarters complained over the run-around he got from the DNR after discovering that L&P's lagoon was leaking on his property. He said he tried to call the DNR's local number but found it was no longer in use. When he contacted the DNR's local office, he said he was told they only handled odor problems. Fighting with the corporate giant is not new, remarked Lloyd, who said L&P wanted to buy him out rather than solve their past incinerator problems that impacted him. He refused, he said. They shut down the incinerator.
While Carthage Mayor James G. Woestman told Childers that his appearance was appreciated, the Carthage native added, "don't forget this is the Show Me State."
Calling the DNR the lapdog of big business rather than the watchdog, Orr is pessimistic that anything will be done to alleviate problems that she labeled as "turning this part of the country into a giant cesspool."
--
For the article, "DNR meets public--environmental problems persist" go here.