Ice storm cripples Neosho, MO
January 16, 2007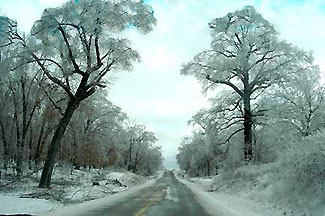 NEOSHO, MO - While reports of the recent ice storm focused on damage from Springfield, MO to St. Louis little attention seemed to have been paid to the town of Neosho in western Newton County. But the clean-up there will be immense as countless trees were decapitated as the weight of ice built up on their sagging branches.
As of yesterday power lines were still down, one intertwined in a split rail fence along Norway Rd. with no New-Mac Electric cooperative trucks in sight. Passersby and first responders trying to report arcing power lines were frustrated in their attempts to reach the utility company whose phone lines, we were told, had repeated busy signals.
An eerie silence surrounded houses in the area. Cars still encased in ice sat in drives while residents apparently found other means to seek heated shelters. Some unlucky homeowners eventually returned to damage from falling trees, many that were uprooted.
In a short distance along Norway, one driver erred in handling an ice patch and wound up in a ditch. Another pick-up had been abandoned earlier, front end into a fence. Traffic on the street had to make at least one detour for trees that had either lost limbs or sagged onto the roadway. This was just one area of many affected.
Stanchions still blocked off access to roads in the hillier sections of town where the roadways were still treacherous. Continued freezing temperatures interfered with attempts to remove the ice.
Traffic lights along main thoroughfares were silent relying on four-way stop signs to control traffic flow. Occasionally a driver neglected to heed the stop.
Only a couple of fast food restaurants were open on the main drag. In one parking lot several tree removal trucks had gathered, presumably driven by workers who had cleared the main roads.
Big Spring Park, three blocks west of the town square, showcased the beauty of winter rather than its wrath and became a photo op for several people who were out capturing memories of the ice event. A mist hovered over the stream adding to the effect.
Our album appears below. click on each thumbnail for a larger picture.