So, you want to be a writer?- Part one
March 15, 2007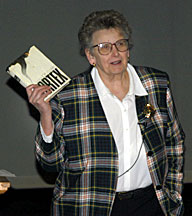 Author/lecturer Kay Hively holds up a copy of Jon Cleary's 1977 novel, Vortex during a talk she gave for the Crowder College Friends of the Library on campus in Neosho. Cleary's story takes place in Friendship, a town in Southwest Missouri that Hively says is Neosho.
Introduced by Kate Rhoades, president of the Friends of the Crowder College Library, Kay Hively in a recent talk on the Neosho campus set out to explain how writing can be about local subjects whether fictitious or historical, by local writers, or by distant writers, such as Jon Cleary who used a local setting. Cleary's story, by the way, has a rather provocative story line: the Vice President of the U.S. comes to town to see his mistress (everyone was guessing who that might have been) when a tornado comes by and officials have to figure out how to get him out of town.
A big fan of local history, Hively admits to being a source of information that she calls "this and that." But her curriculum vitae has endless references spotlighting her involvement in historical preservation like the Missouri Advisory Council on Historical Preservation, the Newtonia Battlefields Protection Association and its cemetery and as president of Missouri's Black Heritage. As a photojournalist for the Neosho Daily, she has researched innumerable subjects of historical significance. And as an author she not only has preserved history for adult readers but also through the sponsorship of the Missouri Press Association has written stories to catch the attention of a young audience. As an example, her story about Harry Truman, "The Buck Stops Here," will appear as a serialized version in newspapers as part of the Reading Across Missouri 2007 campaign.
---
This is the first in a three-part series
about the highs and lows, ins and outs, ups and downs of being a writer
---
"Some guy from New Jersey isn't going to write about Newton County," she began to explain. "We have to encourage it--even if written poorly. We need to save it for the sake of history." But going off on a tangent, she did note that some books "are really bad" but that in reviewing them, she said that although a critic "needs to be honest," he or she also "has to be kind."
People write about many things that are not unique even though they think so. She called attention to such topics as "the covered wagon," or "the Great Depression." She called the self-publishing house the "vanity press," but admitted that self-publishing is the only way to go.
"You can't tell one book from another after a while...and if nobody else loves it, the family does," she said. "They make good Christmas presents you tell yourself," as she thought about her large accumulation of books that she had been asked to critique.
Hively spoke of Larry James as being the most prolific writer of history locally. At one point, she said, he attempted to record all the graves in Newton County but now students are needed to help bring his work up to date. She called his compilation of records from the county poor farm "a sad read." In describing its existence from about 1959 to 1986, she said James has kept alive the pathos of the farm's mostly uneducated inhabitants, some deemed crazy, others just in need of a warm spot to live. The facility was located on what is now the first farm next to Craig's Tire Center on E. Highway 86 in Neosho.
One of the books Hively finds particularly significant is the historical building survey, Bricks & Boards Stone & Mortar. Written in 1991 it catalogs 107 structures in Neosho.
"Every time I see a building go down, I think of this book and am glad we took a picture of it," Hively said. She then alluded to her current involvement in the production of a photo history.
Other books of interest that Hively mentioned were: the Soil Survey of Newton County by Max Aldrich; Mysteries of the Ozarks by Ellen Gray Massey, a member of the Ozarks Writers League; Out of Bounds, a book written by Lori Boatright Fawcett in 1982 to pay for her college education; Java Jack by Lugman Keele and Daniel Pinkwater in which Neosho is mentioned in its first line; Beulah Land by Kristan McGruder that was endorsed by Frank McCourt; and Hugh Robinson Pioneer Aviator, a biography by George L. Vergara (Hively gives herself credit for the renaming of the local airport in honor of Robinson.)
Also mentioned was Field of Teams, a book about baseball in Neosho by Hively and Charles Nodler and Red, Hot and Dusty--Tales of Camp Crowder that Hively wrote a couple of decades ago. For the Camp Crowder book Hively said she had a built-in market. When she got a bunch of orders for it, she said she knew that somebody had gone to a reunion.
So, what's Hively's secret to writing a book? "Apply seat of pants to seat of chair and stay there," she said.
---
On occasion authors or their publishers submit books to us for our review. Two such books that fit the local historical genre are:
---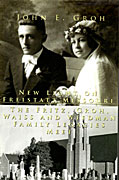 Title - New Light on Freistatt, Missouri: The Fritz, Groh, Waiss and Wiedman Family Legacies Meet
Author - John E. Groh
Publisher - authorhouse (10-11-06)/429 pp./$25.49 (available from Amazon.com)
Versions in paperback--ISBN-10: 1425927467
ISBN-13: 978-1425927462

Synopsis - John E. Groh, himself a product of the village of Freistatt, MO founded in 1874, has done significant research in tracing the histories of four families, including his own, who were primarily responsible for developing the German community and its Lutheran church. Groh shares with his readers old photographs, mini biographies and correspondence between Margaret Wiedman and Irwin B. Groh that although quite laconic reveal the nature of their courtship and the attitudes of those with whom they become in contact. Incomplete records is the bane of the genealogist but Groh weaves together his cast of characters with extensive footnotes and an index of surnames.
---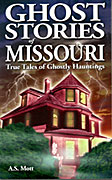 Title - Ghost Stories of Missouri: True Tales of Ghostly Hauntings
Author - A.S. Mott
Publisher - Lone Pine Publishing (4-3-06)/207 pp./$10.16 (available from Amazon.com)
Versions in paperback--ISBN-10: 976-8200-17-0 ISBN-13: 978-976-8200-17-4


Synopsis -A.S. Mott, who claims to have been nurtured on a diet of scary movies and equally scary books, has written a book containing 18 short accounts of paranormal activity, bizarre behavior and amazing coincidences in the Show Me state. Whether reading about the four suicides in the Lemp family (Western Brewery) of St. Louis; the story of Jerrold Potter, a businessman flying with his wife who disappears before the plane touches down in Springfield; or the sightings of Alphonse Templeton, a man not to be reckoned with who on one particular cold night in Paris, MO becomes frightened out of his mind after seeing a lady in a long black dress glide past him, her feet not seeming to touch the ground, no one will be less than amazed. Of course, the book comes with a disclaimer that the events described may be no more than folklore and legends exaggerated as the stories are retold.