River issue still unaddressed in Taum Sauk debacle
April 07, 2007
Political gaming around the state of Missouri is unfortunate, and the East Fork Black River is suffering because of the Taum Sauk Dam failure, according to comments made by Dave Braatz, representative for a company that claims to have the technology to restore the river.
Braatz said that Streamside Systems, LLC, the company from Findlay, Ohio that he represents, was led to believe that their environmentally conscious restoration was in the works in accord with the State's and AmerenUE's "priorities" for the past year. But he contends, "...indications we received from multiple sources [reveal] that the MDNR had gotten soft on AmerenUE and would not be requiring any restoration of the river below the lower reservoir."
AmerenUE's response, an 11-step process towards the goal of improving water quality downstream, included a procedure carried out just six weeks after the dam breach--the one time treatment of the lower reservoir with flocculates--alums that they say help settle suspended particles out of water and allow a portion of clay to be removed from the Black River.
However, Braatz takes issue with AmerenUE's published claim that flocculation helped the river. He also was quick to point out that Mike Bollinger of AmerenUE previously had confirmed that the process only seemed to help for a few days.
"Even when flocculation succeeds," Braatz said, "it comes at a cost of adding thousands of pounds--or even tons--of chemical flocculants to the water. And then, at best, the material settles to the bottom where it smothers the benthic fauna, and NOTHING is removed from the system."
Apparently, there has been a feeding frenzy by individuals, agencies and public entities for their share of AmerenUE's consent agreement with the Federal Energy Regulatory Commission to pay $5 million to fund project enhancements at or near the Taum Sauk project. Self-serving needs have replaced any environmental consciousness, as a three-page list of give-mes suggests. It includes funding for a travel and tourism promotion in the Arcadia Valley and Black River areas, establishing a training facility for search-and-rescue dogs, a new roof and upgrades to the kitchen of a Centerville R-1 school, shuttle service for the Ozark Trail Association, a CT scanner for the Advanced Healthcare Medical Center, a new fire house for the Bunker Volunteer Fire Dept. and on and on.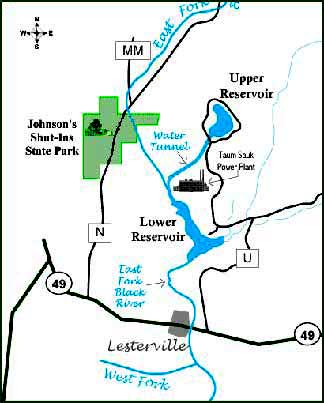 Visiting the Taum Sauk site soon after the dam failure, Streamside Systems says that they proposed a restoration program for the river to AmerenUE and in April 2006 conducted an onsite demonstration of their restoration capabilities by thoroughly cleaning a section of the river most heavily-impacted below the lower reservoir dam. The demonstration was attended by representatives of AmerenUE, Missouri Department of Natural Resources, Missouri Department of Conservation, USGS, and several contractors.
Their subsequent report suggests that clay is probably the most harmful type of sediment that could be added to a gravel/cobble bed Ozark stream such as that of the East Fork Black River. While the total load of clay deposition released from the Taum Sauk Dam failure throughout the river was impossible to accurately measure, Braatz claims roughly to have estimated 4500 tons of clay per mile in the upper reaches of the river below the lower reservoir.
"At ~13 tons per truck load, that's about 350 dump truck loads of the most harmful type of sediment you could ever put in a gravel-bed river," Braatz said. And he asks, "...Who on earth could respect a MDNR that would effectively let somebody dump several thousand truckloads of that stuff off a bridge directly into the river in exchange for some playground and sewing equipment, or a new park restroom, etc.?"
In concluding that the Taum Sauk Dam failure has caused a significant and ongoing impact to the East Fork Black River, including turbidity, bottom deposits and severe impairment of the biological community," Braatz says that AmerenUE has broken Missouri State Water Quality Standards (10 CSR 20-7.031(3)(A),(C),(G)), that the company "has not restored the damage they caused," and that it is apparent that the Missouri Department of Natural Resources "is not doing its job to protect or to restore the river."
He offers these three suggestions:
AmerenUE should not be allowed to rebuild or operate their pumped storage system at Taum Sauk until they commit to, and initiate restoration of the East Fork of the Black River.
The Missouri Department of Natural Resources should have its 'regulatory' authority for protecting Missouri rivers assigned to a different agency.
And if necessary, lawsuits should be filed against Ameren (and possibly the MDNR for complicity) for violating the Clean Water Act.
AmerenUE, according to a March news release from the MDNR, is currently in possession of the state's settlement offer that includes more than $100 million dollars in damage payments as well as recreational damages that will expand the Katy Trail from Windsor to Pleasant Hill, which could virtually complete the trail from St. Louis to Kansas City. That settlement was moving forward when it was abruptly blocked by a lawsuit filed by Attorney General Jay Nixon.
A long-term redevelopment plan by AmerenEU for Johnson's Shut-Ins State Park was submitted to the public in August 2006. However, no news of its implementation is available.
DNR Director Doyle Childers has asked Nixon to step down from the Taum Sauk case over a conflict of interest. Nixon's gubernatorial campaign has been accused by the Blunt administration of soliciting and accepting nearly $20,000 from AmerenUE after Nixon became criminal prosecutor in the case. Nixon has denied any wrong-doing.
---
The incident and its impact
A 55-acre upper reservoir with a 1.5 billion gallon capacity was built on top of Proffit Mountain, approximately 760 feet above the flood plain of the East Fork Black River. As a reminder, it was part of the process of generating electricity by discharging water from an upper to a lower reservoir by the Taum Sauk hydroelectric power plant owned by AmerenUE, St. Louis and located in Reynolds County, MO.
But, early in the morning of December 14, 2005, a 680-foot wide section of the upper reservoir embankment suddenly failed, sending water rushing down the western side of Proffit Mountain and emptying into the floodplain of the East Fork Black River passing through Johnson's Shut-Ins State Park.
A USGS investigations report compiled by Paul H. Rydlund, Jr. has concluded that debris movement was extensive as a result of the flood wave--with peak discharge estimates of 289,000 cubic feet per second traveling along Proffit Mountain and 95,000 cubic feet per second along the East Fork Black River. Through USGS simulations they determined that stress values may have been as high as 232 pounds per square foot along the slope of the mountain and 144 pounds per square foot within Shut-Ins and that flood depths may have reached greater than 50 feet along the mountain and as much as 40 feet along the riverbank. As a result of the flood wave, debris movement was extensive with 180 acres of timber affected.