Will Godstock rock Joplin?
May 23, 2007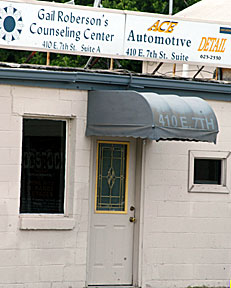 Hidden behind the doors of 410 E. 7th St., Joplin a visitor will have to search high and low for Gail Roberson. Suite A is now the home, no doubt very temporary, of OnFire Productions, the parent company of Joplin's GodStock Music Festival.
By Mari Winn Taylor
Rumors have started to circulate that Godstock Joplin originally scheduled for June 8-10, 2007, at the Joplin 66 Speedway isn't going to take place. There's a denial now to these rumors on the the music festival's website, but don't blink your eye. The site has been "disabled" at least once already.
When the contact number he had was disconnected, the new number went unanswered and his e-mail messages were not returned, Chuck Payette contacted the Joplin Independent for assistance. Payette, a vendor from Minnesota who was supplying the festival committee with tee-shirts, gave us an address that he had found listed on a myspace website for myonfire productions and hoped we would check it out for him.
410 E. 7th St., Joplin turned out to be one of those small buildings near the viaduct that's easy to access--once one knows where to look for it-- but with the no-exit entrance a bit more difficult to leave. Disregarding a sign on an inner door that warned of the need for proper ID, I entered. A sign for OnFire Productions led me to the desk of Derrick Gates, Godstock's CEO.
I can't say that my encounter wasn't pleasant, although, I guess, I had to watch where I stepped. Gates denied that they owed Payette money claiming that their agreement was that he could sell tee-shirts on the festival days for a 25% kick-back. I was introduced to a fellow with flaming yellow hair (sorry didn't retain his name) whom I was told was the new assistant. As for the negative rumors circulating, Gates blamed them on antagonists who don't see eye-to-eye with wedding Christianity and rock music. I was assured that our press passes would be in the mail by next week.
I had little need to wonder why I was escorted to the front door. Fiddling with a newly installed bolt at the top of the door, the assistant mumbled something about the door and apparently my not having had difficulty entering......
Derrick Gates had told me that his wife Dena, the Godstock vice-president, was supposed to be making contact calls and would have Payette's name on her list. According to Payette, she did phone him, and, by the way, had admitted that they owed him money for two invoices he had sent them. The check would be in the mail on Friday...maybe.
Inconsistencies abound
At this point no mention was made to me of the event having been postponed--the website as of this writing is still announcing the June 8-10 dates. Payette claims, however, that during a phone conversation with a person named Joe Johnson who said he was "taking over some things for Godstock," he was told that "they are moving the event to September."
"We are trying to find out what is going on with this event as well," said Margaret Fry, the Christian Happenings ticket manager at iTickets.com. Even though the iTickets logo still appears on the GodStockRocks website, iTickets has removed the event from their festival schedule.
So, 80 bands on three stages that was re-advertised as 40 bands on two stages is now down to "plenty of music." And the headliner Disciple, still on Godstock's schedule for Saturday evening, lists the concert date as "postponed" on their facebook website.
Come out, come out wherever you are
Like Payette and another vendor with whom he was in contact, we had no luck contacting Derrick Black, who sat up at the head table during the March 13 media event at the Residence Inn by Marriott and proclaimed that he was head of promotions. We did hear from Howie Nunnelly, who had been given the title director of public affairs. It was Nunnelly's Impact House that was to benefit from the proceeds of the event, according to a statement made by Gates at the press conference.
Nunnelly told us he had resigned. He said he was upset over the way the event was being handled. He didn't want to destroy the positive reputation he had established as a self-proclaimed minister (Among other Christian deeds, he assists men who are in alcohol, substance abuse, or life recovery.) He said he had brought in the sponsorship of Fox 14 but that they were withdrawing their support at his suggestion.