After the deluge
June 15, 2007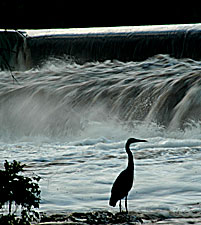 This heron may have had the same thoughts as many of the bystanders who came to Grand Falls in South Joplin on June 12, 2007, after the heavy rains that fell in the area. "Look at all that water!"
Local TV coverage seemed to concentrate on flooding in Jasper County, especially that caused by Joplin Creek near Illinois Ave. and Eighth St. that forced the evacuation of several businesses, but Keith Stammer, director of the Joplin/Jasper County Emergency Management, said at a press conference that the flooding was not a Joplin story. It's Waco...it's Carl Junction...it's Lamar...it's areas west and north of the city that were inundated.
Stammer called the flood well in excess of a 100 year event. He ranked it number three in terms of severity as 1-1/2 inches fell during the period from 10-11 a.m. on ground already saturated from a previous heavy rainfall.
Lane Roberts, Joplin's new police chief, admitted that the weather aftermath taxed the force, but he said that extra shifts were brought in to deal with the biggest issue: road closures, and in Joplin that number by noon reportedly was 20.
Forty-four locations in Jasper County were under water, according to sheriff Archie Dunn. He said that especially hard hit were areas along Rte. 171 near Waco and Carl Junction. Dunn compared the rainfall to that of the storm of 1993.
Commenting that he thought it was normal behavior for people to want to drive through water, Dunn said the State ran out of barricades to try to thwart the practice. He said not a lot of overtime was needed even though members of his department had been posted to keep motorists from driving around the barricades.
Gary Trulson, Joplin fire chief, smiled and said that the sanitary system was holding up. People can flush. He mentioned that three damage assessment teams have been formed to check over erosion problems and any damage to infrastructure--roads and bridges and utilities.
Ironically, some residents in Newton County Joplin couldn't flush but the problem was not storm-related. A water main was breached by workers doing road construction on Jackson St., south of 32nd. Water was restored to nearby homes after about a four-hour interval.
While Trulson noted how public funding for downtown Joplin sewer projects paid off, Neosho public works director Mike Hightower without funding had to deal with the usual flooding along Neosho's streets, some of it causing monetary hardship to private residences and businesses.
It's amazing how Mother Nature can excite people. After the rain stopped during the evening of June 12 people were out and about along Shoal Creek south of Joplin to see what she had wrought.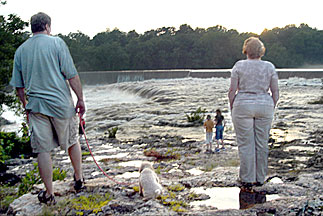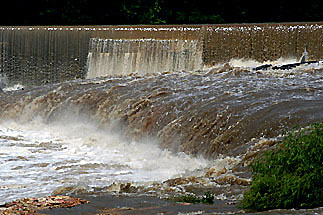 Bystanders check out the volume of water flowing over Grand Falls in South Joplin. Traffic was constant on Riverside Dr. as motorists came to enjoy the drama of the falls that the Joplin Convention and Visitor's Bureau says is "the largest, continuously flowing natural waterfall in Missouri."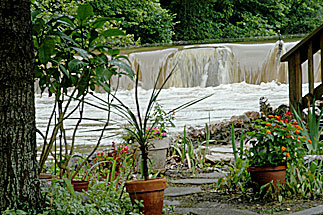 Water tops a dam in the rear yard of Alberta and Lloyd York. Their property sits on the corner of Castle and Mark Twain drives in Reding's Mill. Staring at the adjacent road that was covered with water, Alberta York lamented the loss of the coreopsis flowers she had planted that were also now underwater. Neighbors stopped by to check on the water level and compare notes with the Yorks who have lived in their house since 1984.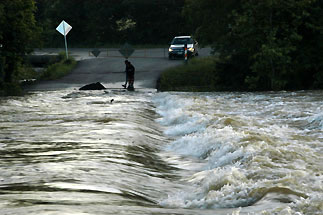 A motorist stands near a section of the low water bridge over Shoal Creek at the south end of Jackson St. that appears to have buckled under the strain of the water. The Joplin Public Works Dept. installed permanent barricades that are closed during high water after a motorist was washed away attempting to cross the bridge during inclement weather.