Rally held for Thomas White; continuance allowed
July 06, 2007
by Mari Winn Taylor
Chelsey Pippin, 10, a student at Stapleton Elementary School who is entering Memorial Middle School this fall, was the stand-out in a group of people demonstrating today outside of the Jasper County Courthouse in Joplin.
The youngster was part of the group of citizens who were there to show their support for the family of Thomas Gregory White. Chelsey Pippin is the daughter of former Joplin Daily reporter Michelle Pippin who had been hired by the national organization Justice for Juveniles to do PR.
Arrested on December 6, 2006 by the Jasper County Sheriff's Department, after discharging a weapon in Memorial Middle School on October 9, 2006, Thomas White was scheduled to appear at 9 a.m. at a scheduled pre-trial conference before Division III Judge David Boyce Mouton. He was represented by his current lawyer, public defender Brett Meeker (a female) assisted by James Egan, who, by the way, did most of the talking.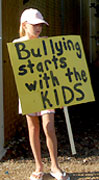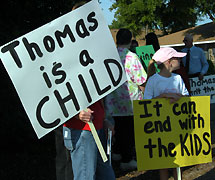 What Chelsey Pippin suggested with her signs, "Bullying starts With the KIDS," "It can end with the KIDS," was that kids need to step up and tell teachers what they are seeing. She believes that kids' firsthand experiences often go unnoticed by their teachers and administrators.
While many admitted that school bullying is not an excuse for school violence, they came to back Thomas White who allegedly was bullied repeatedly in school. Rosana Ladik of Diamond, who publishes the website, anti-bully-coalition.org, would like to see more attention paid to stopping the practice. Ladik, who said that her two children were bullied when they attended school in Illinois, thought that, perhaps, Thomas White, like others who are shy, was "too easy-going" and "didn't know how to tell somebody to lay off."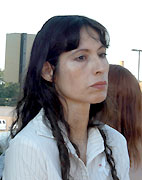 Norma White, pictured, who stood nearby often close to tears, expressed remorse that she didn't do more to protect her child whom she said came home with a "swollen hand" and other signs of school abuse. Subsequently, she had discovered, she said, that a teacher's remedy for handling bullies was to "turn and walk away."
She also was sorry that she was not more outspoken earlier, but that she was following the advice of her son's former attorney Chuck Lonardo who said to "keep quiet." "I decided that just wasn't working," she said. She hopes that speaking out will get more community support.
In describing her son, who spent his 14th birthday on December 24, 2006, in jail, Norma White used the terms "quiet," "reserved," "not in trouble." She said he received "compliments on his good behavior" and that he "didn't run around at night."
Vernon Peterson, the family's minister, held the sign, "Thomas isn't the danger." The minister at the Church of God Seventh Day in Royal Heights (Joplin) who had baptized Thomas, said he knew him "since he was a little thing," that he appeared to be "shy" and "behaved" and that the family in church seemed "close."
Before retiring from the bench Circuit Court Judge William Crawford certified Thomas White to stand trial as an adult. Peterson and others would like to see that ruling overturned.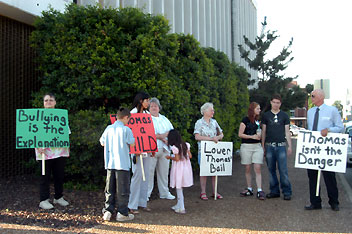 Supporters of the family of Thomas Gregory White gather around Norma White (third from left) and two of her six children during a demonstration before the start of a hearing at the Jasper County Courthouse in Joplin.
Hearing begins
With dark black hair and features unmistakably like his mother's, Thomas White clad in a red and white suit was escorted shackled into the courtroom like he had done on several prior occasions. He never made eye contact with his mother who sat in the gallery with two of Thomas' siblings and her supporters.
Without undue delay Meeker and Egan, by their own suggestion, approached the bench along with Assistant Prosecuting Attorney John Nicholas. Meeker, who admitted to the judge a concern over saving paper may have hindered the coherency of his argument. He can best be described as polite but seemingly inexperienced, traits that the judge may have taken into consideration. On the other hand, Nicholas, quite self-assured, holding what appeared to be a container of coffee, attempted to argue that the defense failed to offer proof in prior papers that the present court was not appropriate for this trial, or, in other words, that Thomas White shouldn't be tried as an adult.
While Judge Mouton expressed concern over delaying the case in order, as requested by the defense, to present further testimony from three unnamed witnesses, he granted a two-week continuance in support of Thomas White's rights. His decision was made against the strong objection of the APA. In setting the criminal motion hearing for Friday, July 20 at 1:30 p.m., Moulton was offering the defense another opportunity to make their case.
---
A non-denominational candlelight prayer vigil for the family of Thomas White will be held from 8:30-9:15 p.m. on Wednesday, July 18, 2007, at Landreth Park (pavilion #2) in Joplin. Sponsored by Justice for Juveniles the event is an opportunity to meet Thomas' mother, Norma White and express support and compassion for her circumstance.
"I would like to thank all those who have helped to organize this event and especially those who have been and continue to pray for my son and our family," said White. "That I am sorry does not begin to express the depth of my grief for the effect this has had on the entire community, and 'thank you' does not begin to express our full-appreciation for the compassionate, forgiving individuals who have expressed this to me personally. We are eternally grateful for the community's continued support and for all the prayers for our family and our son."
---