Vigil held for Thomas White's family
July 19, 2007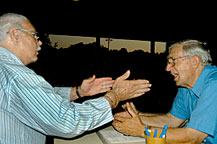 Maurice Filson, at left, and Earl Lewis, at right, discuss the finer points of the Thomas White case at a candlelight prayer vigil in support of the White family. Both are pastors.
"The best people in the world are here," said Pastor Earl Lewis. "These aren't just family and friends," Lewis observed, as he looked over those citizens gathered at pavilion 2 in Landrith Park last night.
Some of them came to give testimony in support of Thomas White who is being held for his own protection in solitary confinement at the Jasper County Jail in Carthage. Thomas White has five felony charges against him for his sole involvement in a shooting incident at Memorial Middle School in Joplin on October 9, 2006.
Volunteers had to re-light candles as a soft breeze played havoc with the flames. The mood was solemn, with portable organ music provided by Camellia Plosser playing in the background as several supporters readied to speak.
Lewis knew Thomas White before retiring as a pastor of the Joplin Church of God (Seventh-Day) where he served from 1995-2001. He used the terms "quiet, very mannerly, polite," and "sweet spirited" to describe him--"one of the better kids who sat with his family in church."
After being able to visit Thomas White in prison in his current role as chaplain, Lewis said, "He's still the same young man he was then." Surprised that Thomas White was involved in the school shooting, Lewis added, "I pray he gets proper judgment."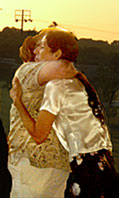 An audience member hugs Norma White, at right, as an expression of her support for the family.
Vernon Peterson, the current pastor of the Joplin Church of God (Seventh Day), believes that Thomas White "wanted to be kicked out of school" and that he sought a "juvenile answer to the problem."
He said that society needs to look out for those less capable, those not streetwise or subject to the wrong environment, and like the belief of Lewis, hopes that Thomas White will be disciplined accordingly.
A neighbor of the Whites, knowing that Thomas White had been bullied in school, added her observations of elementary school youngsters being bullied while walking to school. Ann Allen, who described herself as a Christian who had served 20 years in the army, said she sees bullying constantly living on a school route. She labeled bullying today "malicious" and found it incomparable with bullying of 20 years ago when the perpetrator simply had a "chip on his shoulder." After reporting the incidents to school authorities, she said she was rebuffed. What happened on the way to school, they told her, was not their responsibility.
Allen was actually the lead in for Janice Orr, a special ed teacher with knowledge of Thomas White's learning disabilities. Orr, who received a master's degree in special education from Pittsburg State University served as director of education at Willowcrest, a psychiatric facility in Miami, OK. She said she pulled her own daughter out of public school when it failed to meet her daughter's educational needs.
She described Thomas White's learning disabilities as being the core of his acting out the way he did. She admitted that his action was not appropriate, nor acceptable, but was the only way he knew how as a child to vent his anger and frustration over the constant bullying and racial slurs he is said to have endured. She found it unfortunate that his family and teachers failed to recognize the symptoms that would lead to violence.
Maurice Filson came to apologize to Norma White, Thomas' mother. Serving a three-year term as a deacon at the Central Christian Church, Filson admitted to having been wrong when he wrote a letter to the Joplin Globe implying that Thomas White's actions were in some way related to a lack of religious influence.
"My ignorance was because of lack of knowledge," Filson said. After visiting Thomas White in jail in his role as a chaplain, Filson said he found the boy to be religiously "very deep."
"He asked questions out of the Bible--Revelations--questions adults never asked," Filson explained. Regarding Thomas White's thoughts about making amends, Filson added, "He has a unique intelligence about him."
Michelle Pippin, a spokesperson for Justice for Juveniles, in her role as emcee, referred to the jammed gun,--or what happened after Thomas White shot the assault rifle he brought to school into the ceiling--as a "hanging noose." "There's a notion out there that Thomas pulled the trigger," Pippin said. "Go read the stack of court documents," she suggested, hoping to quell any misinformation being circulated.
A criminal motion hearing has been scheduled in District III for 1:30 p.m., Friday, July 20, 2007 at the Jasper County Courthouse, 601 Pearl, Joplin. Judge David Mouton will hear final arguments by defense attorney Brett Meeker, assisted by attorney James Egan, as to why Thomas White should not be tried as an adult. Pippin encourages any supporters of children's rights to attend.