Argument for remand heard in Thomas White case
July 21, 2007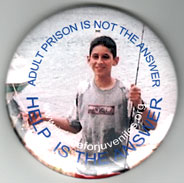 Juvenile attorney Chuck Lonardo was crucified in the Circuit III court of Judge David Mouton yesterday (July 20th). In a three-part argument, Thomas G. White's current defense attorneys--public defenders Brett Meeker, James Egan, and Kathleen Miller attempted to show that defects in the certification process, including what they termed Lonardo's "ineffective assistance of counsel," justified a decision by the judge to send White's case back to juvenile court where it was originally heard. In a PowerPoint presentation that the defense prepared for Mouton citing 15 cases, including K.D.C. v. Copeland, they attempted to show that Mouton's court definitely had the authority to remand. However, Jasper County Assistant Prosecutor John Nicholas immediately took issue with their interpretation.
The decision to certify White to stand trial as an adult on two counts of first-degree assault and single felony counts of armed-criminal action, discharging a weapon inside a school and attempting escape from the juvenile detention center was made by Circuit Court Judge William Crawford before his retirement from the bench.
---
Some background--
In attempting to remand White's case to the juvenile court, defense lawyers Meeker, Egan and Miller made a motion to declare 211.071 RSMo unconstitutional. The Missouri Juvenile Code, of which this is a part, spells out reasons for trying a juvenile as an adult. Factors taken into consideration include indications that a child's past history makes him beyond rehabilitation; the child's age, sophistication, and emotional state; the availability of facilities that would be of benefit to him; and if the juvenile committed two or more unrelated offenses which would be felonies if committed by an adult. In the case of first degree assault it is a "discretionary decision" of the juvenile court to transfer the case to the court of general jurisdiction, or try the juvenile as an adult. Taken into account is the alleged seriousness of the offense, whether protection of the community requires transfer, and whether a committed offense involves "viciousness, force and violence."
If the court concludes that relevant factors properly found and considered lead to the conclusion that the juvenile system is not a proper forum for handling the juvenile, then the juvenile may be certified to stand trial as an adult. This conclusion may be made even if psychiatric evaluation recommends that the juvenile be dealt with in juvenile court.
---
Lonardo's performance lambasted
What the defense attorneys were attempting to prove was that Lonardo's performance at the certification hearing before Crawford did not conform to a reasonable degree of competence: that Lonardo didn't research case law, that he used strategy that prejudiced his own client and provided an invalid waver of White's Fifth Amendment rights by having his client introduce self-incriminating remarks, that he did not fully interview expert witnesses, and that he didn't introduce evidence showing his client would benefit from placement in a juvenile facility.
Lonardo purportedly admitted that it was his first certification hearing. In a deposition that was one of three admitted into evidence, Lonardo, when asked if he researched case law, purportedly admitted, "I don't recall...I could tell you it wasn't much." However, the defense still needed to show how having this information would change the outcome of the hearing and what the legal basis might be for the accusation that White was deprived of due process, defined by Egan as "fundamental fairness."
Foulks testimony refuted
The defense claimed that Lonardo was remiss in allowing April Foulks, deputy juvenile officer for the Jasper County Juvenile Division, to testify that if White remained in the juvenile detention center, he could potentially spend only six months to a year in custody based on the facility's average rehabilitation programs, and that it was not the norm to retain juvenile offenders until their 18th birthday. According to the defense, Foulks gave the "erroneous perception" that White was a "dangerous child" who "could be released into the community in as little as six months to a year."
Lonardo could have impeached April Foulks with testimony from the Division of Youth Services, Egan explained. "The DYS contracts out to Boys Town and Piney Ridge if their facilities are insufficient," Egan said. Although not in April Foulks' testimony, presumably, this point was made clear in the deposition of DYS' Sue Kidd, one of the three just submitted by the defense. Kidd also presumably countered the argument that the juvenile court has no say in a child's placement.
The third deposition filed by the defense on July 19 was from Kimberly Comstock, a juvenile detention officer. Comstock reportedly told the court that she overheard a conversation over the intercom on October 10, 2006, between a detainee and White in which White in referring to Principal Stephen Gilbreth said, "I would have shot him in the head. But my f-----g [modified to get past censors] gun wouldn't shoot." One can only surmise that Comstock's deposition further clarifies her heresay testimony.
Defense is cautioned
Some of Egan's remarks forced Judge Mouton to warn him to "confine your remarks to the court." After an objection from Nicholas, Mouton reminded Egan that it was "not a class for the audience" and "to cut to the chase for legal arguments."
Egan told the judge that public opinion wants the case done and not delayed due to the need for an appeal. If Judge Mouton doesn't remand, Egan said, it would be a "miscarriage of justice." "Three qualified professionals have testified unequivocally that they don't consider this boy dangerous," Egan added.
Mouton rapped up the hearing by saying he needed time to read the three depositions just filed the day before and review any other case citations. He said it was difficult to know when to take in relevant information and that he is guided by what the law is pertaining to the case. He cautioned against making law where there is none.
No date as of this posting has been set for resumption of proceedings.