Ozbun constructs CAFO despite stay order
August 18, 2007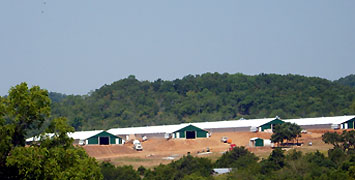 Construction continues on four breeder pullet houses within a short distance of Roaring River State Park in Barry County, Missouri. This photo was taken on August 15, 2007, showing a cement truck and other worker activity.
Several residents in the Barry County community near Roaring River State Park are confused over how construction can continue on four pullet houses by Michelle Ozbun after John J. Kopp, a hearing commissioner with the Administrative Hearing Commission State of Missouri had issued a stay of construction. His ruling was made on July 25, 2007, after he determined that neighbor Mark Stephenson's contention that a waiver on setbacks Ozbun had obtained from Phyllis J. Henke was invalid.
The residence of Phyllis J. and Walter L. Henke Jr. is within 1,000 feet, the necessary buffer zone needed before construction can begin without a waiver. While Walter Henke initially agreed to the waiver, his wife had been adamantly opposed. The situation was complicated by Phyllis Henke's allegedly having signed the waiver and then rescinded her agreement and then having confirmed to the Missouri Department of Natural Resources, the agency responsible for the permitting, that she really agreed. Stephenson contested the signature on the final document since it had not been notarized, and, therefore, could not be filed with the recorder of deeds, a necessary legal step.
While it was determined that Mr. Henke had power of attorney for his wife who allegedly is suffering from Alzheimer's disease, he has not executed it. And while his wife seems capable of determining for herself that "chickens themselves stink, not just the litter," her husband claims he "just wanted to be a good neighbor" when he signed the waiver. Word has it that he in part may have been influenced by his pastor who reportedly owns chicken houses.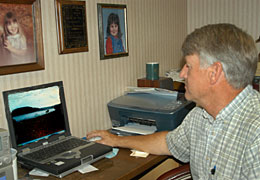 Mark Stephenson in his Joplin office opens a file containing a view of his land before construction began on the Ozbun pullet houses. Mist had settled over what was a picturesque area.
Stephenson attempted to get a definition of "stay" from an attorney in the Office of the Missouri Attorney General, but the reply was, "We can't issue legal advice," as if the question actually asked for it. Presumably, the AG's office in response to an anonymous call by Ken Midkiff is investigating why the stay is not being enforced by the DNR. Of course, what is a paradox is that the attorney general's office also serves as legal counsel for the DNR.
Stephenson seeks assistance from local agency
"No zoning" is often cited as the reason for undesirable effects of county development, but Stephenson believes that lack of a county health ordinance better explains rampant CAFO development. His attempt to involve the Barry County Health Department in the CAFO matter got him the run around by Administrator Kathleen King who told him, oops, guess we forgot to tell you we postponed the meeting--they neglected to have a quorum for the first meeting he wanted to attend-- and by Board Chair, Barry County Commissioner John Starchman who somehow neglected to put Stephenson's name and that of 12 others on the next meeting's agenda, and so they couldn't speak.
It's "who's bought and paid for," Stephenson said after recalling how the health department meeting agenda was tabled last May after the department in response to what they labeled an "outburst from the audience," had phoned the police.
Stephenson also called attention to Ozbun's contract with George's Processing, Inc. And who do you think gives legal advice for George's? Why none other than Matt Blunt's brother's law firm, Stephenson replied.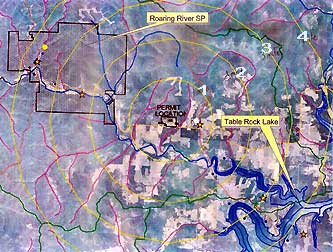 This map shows the permit location in relation to nearby Roaring River State Park and Table Rock Lake and its tributaries. The numbers in white refer to distance in miles that the Ozbun property is from these outdoor activities areas with Roaring River State Park downwind.
What's coming?
According to an interim nutrient management system plan submitted by Michelle Ozbun and her husband Rodney, their system will manage the waste from four breeder pullet houses with a total capacity of 65,600 birds and that "annual production will be 2.1 flocks." With flock life estimated at "21 weeks and average weight estimated at 2.5 lb. per bird", they are calling for the "average daily litter production (manure and bedding) to be .41 cu. ft. per 1000 pounds of animal capacity or 386 tons. At 34 lb./cu. ft., the volume of manure and bedding will be about 20,710 cu. ft. annually," or waste "approximately equal to 6954 human equivalents," except, as Stephenson points out, the humans aren't defecating on a dirt floor with the clean-out of waste done yearly from inside the houses in order to be hauled away for land application.
---
By the way, if the name Rodney Ozbun sounds familiar, it's because in early 2006 the producers of Trick My Truck described him as a hardworking father of three with medical emergencies that forced his wife to quit her job and him to double his hours to keep up with the bills. That was the premise behind producers CMT giving Rodney's Kenworth truck a complete makeover.
---
Regarding the four tons of carcasses that are expected to die annually, they propose removal "daily or oftener" to a composter that will be maintained on the property. Carcass compost will be stored in the facility until spread.
Stephenson, who called the plan theoretical, admitted that Ozbun described her houses as having "state of the art construction." "She may have used those terms," he said, but "she lied about the open side walls." In spite of language in the plan, Stephenson said he also was told that the litter would be stored outdoors for two weeks. "The DNR may consider it a no discharge CAFO, but tell me how litter can be stored outdoors for two weeks without it doing something?" he asked.
Stephenson also doesn't like being described as the "Joplin realtor," suggesting that he was some sort of interloper. He said he and his family owned the 360-acre parcel near the Ozbuns for the past 35 years. "We use it for hunting, fishing and enjoying the Missouri Ozarks," he said.