Airport terminal developes a personality
September 14, 2007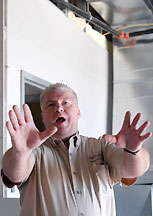 Steve Stockam describes to a group of airport board members, planners, and the media how all the amenities will appear in the Joplin Regional Airport terminal currently under construction.
Steve Stockam, Joplin Regional Airport manager, was like a young boy fingering his first shiny red truck, as he demonstrated to the media yesterday (September 13, 2007) the features of a new terminal under construction on the airport grounds off of Highway 43. Currently 65-70% complete, it is contracted with Crossland Construction to be finished by January 2008 and scheduled for a Labor Day 2008 opening after work is completed on runways and the new 85-foot federally-funded tower.
One might point out that the "truck" simile is as outdated as the present terminal building reaching its 60th birthday next year. A less dated comparison should include a coveted techno gadget.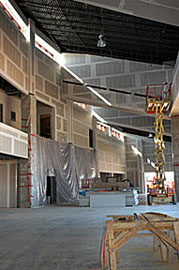 Although not a LEEDS certified building, the new terminal, according to Joplin architect Kyle Denham, incorporates several energy efficient building methods. What is most notable in its architectural design, especially in comparison to that of the present terminal, is the use of space, its T-shape allowing expansion at two ends, and its ability to operate with solar energy efficiency at a 20% savings over the present structure. The selection of interior finishes for easy maintenance factor into additional cost savings as well as the use of a press and seal waterproofing material made by local supplier, Tamko Building Products that will be installed under long metal panels completing an easy-maintenance roof.
"The airport is the true front door of the community," Stockam said. Joplin needs to be perceived as a "progressive and aggressive" community. When talking to airlines about adding service to the airport, Stockam said that they "ask about amenities." Every commuter jet is a $25 million investment. In the airport's present state, Joplin has fallen way short of airline expectations.
Some new amenities include a new taxiway that will save on fuel and allow for greater safety while a plane is on the ground, a covered baggage claim area, and five gates with three covered and two walk-up.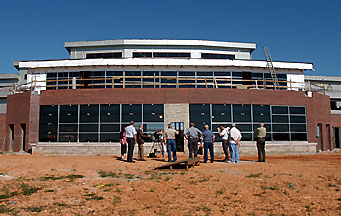 The terminal building as seen from the taxiway is designed to create a welcoming appearance.
What Stockam believes to be of special significance is the impression that the terminal makes upon arriving commuters. He describes the design of the rear of the new terminal as "pleasant and welcoming." It is faced in brick and stone selected by an aesthetics committee headed by Keith Adams that sought to emulate the look of the red brick of old area buildings and of the use of old Carthage stone once mined in the area. Planters will be part of the landscaping, accent lighting will be installed near the roof, and, of course, there will be a sign designating "Joplin Airport," Stockam said.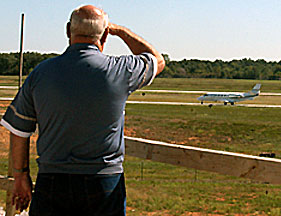 An airport board member watches a plane taxi down the runway from a vantage point on the deck of the terminal in the process of construction at the Joplin Airport.
A band of curved glass windows allows visibility for the passenger holding area. Above it is a long deck, something Stockam thinks may be unique in airport terminal design. It allows a view of the intersection of runways 1836 and 1331, Stockam said, and may be accessed by him through a secured door in his office as well as a door in one nearby. In its current state of completion, it is a perfect sundeck that, he said, jokingly demanded a hot tub.
While not totally open to the public, the deck has been proposed as a place to host prospective airline representatives and hold the local chamber of commerce function, Business After Hours. Monies creating a Col. Travis Hoover memorial will help subsidize the deck's cost. Hoover, 86, who passed away in 2004 in Joplin piloted the second B-25 to take off from the carrier Hornet for the 1942 raid on Japan.
Other features of the 2-story terminal in part include:
Two ticket counters with a third area to be used by senior citizen volunteers as an information booth
A private area to screen luggage
Large sliding glass doors to allow businesses to showcase products the size of automobiles
Carpeted main lobby to contain a tiled area with a logo with compass readings and a welcome to Joplin message
Controlled access point to contain vending machines and be glassed for viewing by non-passengers
Monitors with CNN coverage
WiFi
Two rental car areas with covered canopy located nearby outside
Elevator
25-capacity training facility
Board room
SMART boards for presentations
Safe areas in case of tornado warning
The funding
Federal Airport Improvement Funds continue to be doled out for the improvement of the airport in phases. While about $11.3 million so far has been allocated for Phases I-III, the monies for Phase IV still have to be authorized by Congress. Phase IV includes creating parking facilities and interior terminal work. Stockam expects the total project to max out at $15.5 million. While an increase in steel prices caused a bit of an over-run, cost savings elsewhere balanced out the total, Stockam explained.
The use for the present terminal
According to Stockam, the old terminal eventually will be gutted in order to install modern electrical, plumbing and heating systems, and that a number of folks are ready to lease space in it right now.
A restaurant/meeting center is proposed for the use of pilots and their guests. "They call [what they serve] $100 hamburgers--people willing to fly for food," Stockam said.
The future
"We're working on a daily basis with the Mike Boyd Group [aviation planning experts from Colorado]," Stockam said, when asked whether negotiations were continuing to attract other carriers to Joplin. Since August 2006, Stockam said that the passenger count has doubled, representing a 75% carrier occupancy.
Right now US Airways Express/Midwest Airlines is operating under a two-year Essential air Service subsidy agreement through the Department of Transportation and is providing service from Joplin to Kansas City with four daily departures and arrivals. "When we move into an open program in July 2008, we will be able to hold serious talks to attract other airlines," Stockam said.