Habitat for Humanity 's ReStore has many benefits
October 01, 2007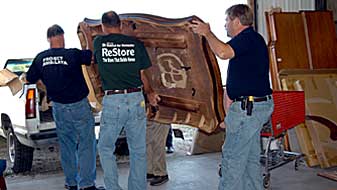 Dining room tables were a big seller last Friday at the Joplin Area Habitat for Humanity ReStore located at 315 S. Black Cat Rd. ReStore had a ribbon cutting ceremony that day marking their official opening. The store is a fund-raiser to cover administrative expenses for the nonprofit, mostly volunteer group that devotes its resources for building houses that benefit people in need.
Keep stuff out of landfills, sell it cheaply and be able to build more homes with the profits. That's the philosophy behind establishment of the Joplin Area Habitat for Humanity ReStore, according to its manager, Keith Spicer. And "what could be better than that?" Spicer wanted to know. In keeping with the recycling theme ReStore will be selling rain barrel kits for $40 apiece. The kits will include the barrrel, parts and instructions and are sanctioned by the City of Joplin Public Works Recycling Department and the division of the EPA concerned with storm water education best management practices.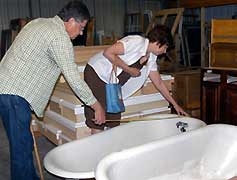 Come prepared with a tape measure. You never know what you'll find at the ReStore. This couple found an old fashioned bathtub that they eventually bought for $50.
Don't think that the store only offers building materials, although with partners like Joplin Supply Co., Lowe's, Ramco and with whatever individuals contribute, construction materials often will be part of the inventory. For instance, a hearty stack of ironing centers offered at $40 apiece were waiting for savvy buyers who know each sells for $150 or more. And Lowe's recently contributed five pallets of discontinued Closet Maid organizers that are being offered for 50% of the discounted price, Spicer said.
Electrical supplies and hardware fill an aisle and chandeliers and paint cans line opposite walls. The lighting section also contains lamps, excess lampshades and a shelf full of glass hurricane shades in many different sizes.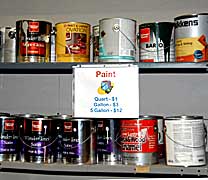 Individuals are encouraged to contribute paint that they've opened but haven't used. Other paint comes from the Joplin Paint Center that promised to contribute more. The paint is being resold for $1 a quart, $3 a gallon and $12 for a five gallon can. Last Friday the inventory contained a five gallon can of deck sealant that appeared never to have been opened.
Household items, linens and furniture are in good supply thanks to a donation from Trade-X closing out those departments. Spicer referred to some of the items as furnished "rental house decor." However, the large selection of dining room tables and cabinets are waiting for anyone willing to repair the occasional scrape and ding in order to come home with a bargain. Wayside Furniture also donated tables that would have been manufacturer returns. They are offered for sale at 25% of their original price.
Spicer thinks that the set of black lacquered dining chairs selling for $200 apiece might have too high a price tag for the local market. They originally were high dollar items, he said. If an interior decorator doesn't discover them, Spicer thinks they will be put on EBay.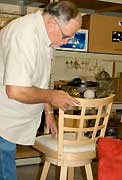 This customer is carefully checking over a bar chair that was a one-of-a-kind offering. It appeared to be in excellent condition, but what he thought was an unbelievably low price made him a bit leery.
When asked about the building, which is utilitarian but spacious, Spicer said grant money was used to help defray some of its cost. He said a local bank provided excellent terms for the mortgage that provided monies for the $200,000 balance.
"We won't take mattresses, used fabric furniture, carpeting or rugs," Spicer said in enumerating the number of items that individuals might want to donate. Wall decor falls into the okay category as well as room dividers--two of which containing parchment just were snapped up for $10 apiece.
Spicer's advice to interested people is to phone ReStore before throwing anything out. Phoning is the procedure for making a contribution, not just dropping items off. Pick-ups, for those who need them, will be made on Wednesday afternoons by members of Missouri State University's Kappa Sigma Fraternity who have volunteered their services.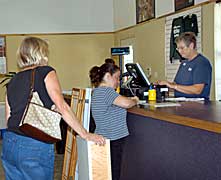 Gotta have it. That's what customers are saying about their purchases from the ReStore. Many are craftsmen that see a work of art about to be created from the simple frame or screen they found. The ReStore accepts cash or check but no credit cards for purchases.
While most of the workers in Habitat for Humanity are volunteers, Spicer said that he was paid half time for managing the store, and that Executive Director Connie Mosbaugh and her assistant Jill Petty are also salaried.
To ask about making donations phone (417) 782-SHOP (7467). Store hours currently are 10 a.m. to 6 p.m. on Fridays and 8 a.m. to 2 p.m. on Saturdays. At the end of October the number of days that the store is open may be expanded.
Individuals interested in volunteering for Habitat for Humanity should phone (417) 782-6533.