Joplin's historic district hosts a fair
October 04, 2007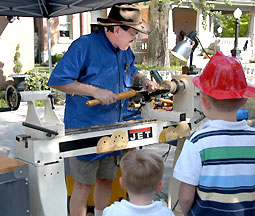 Two young boys are fascinated over what woodturner Greg Huff can do with a piece of wood and his lathe. As the wood splinters flew the artisan asked the boys what they thought he was creating. No guesses were yet forthcoming. Huff is director of the Ozark School of Creative Arts located at 4820 S. Jackson, Joplin. The demonstration was part of the Murphysburg Street Fair.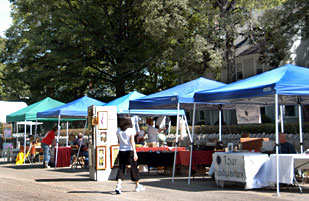 Perfect weather greeted visitors of the Murphysburg Street Fair held in Joplin on September 29, 2007. The fair brought out the young and old alike, one to check out the fire engine parked on one block and try their luck at a game or two, the other to take a self-guided walking tour of the neighborhood and look over the booths containing antiques and trinkets. The Murphysburg Preservation, a non-profit corporation whose mission is to foster activities that stimulate historic preservation throughout an area in Joplin from First to Seventh St on Sergeant Ave. and First to Fourth St. on Moffett Ave., played host.
---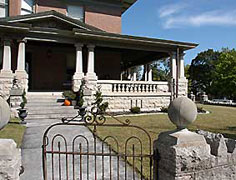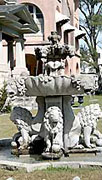 A group of women not seen in the darkness of the porch in the photo at left were engaged in conversation while, at right, a fountain on the corner of the property of the former Henry McNeal house (1908) at 220 Moffet spewed water from the mouths of several lions. The pointed stones on the wall surrounding the property added to the property's Gothic landscape.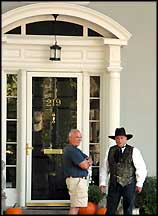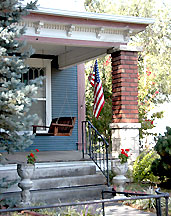 The present met the past. Two men in the well restored Colonial doorway of the former Thomas Lennan house (1917) at 219 Sergeant, at left, also exchanged pleasantries while, at right, a swing on the porch of the former Adam Scott house (1900) at 202 Sergeant was waiting for a visitor looking for a quiet spot to relax. Visitors were encouraged to wander about and enjoy the nostalgia of the area's eclectic architecture.


---
Methodists played a vital role in Joplin's early historical development, including being instrumental in having the merged community of Murphysburg on the west side and Joplin City on the east side of Joplin Creek in 1873 named after their early minister, Rev. Harris Joplin, who was assigned to spread Methodism to the Indians and settlers of the area. Members of the current First United Methodist Church greeted visitors, passing out bottles of water and brochures outlining the church's history and services.
A full list of houses in the Murphysburg Historic District may be found here.