Emma France says daughter is innocent
November 27, 2007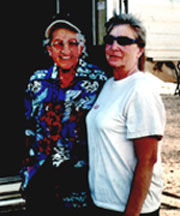 This snapshot was sent to the JI from Delores Forste (pictured right). She is shown with her mother Emma France, 95, whom she has been charged with illegally taking to California. Charges of kidnapping, interference with custody and financial exploitation were filed against Forste by Jasper County authorities. Forste, 67, has denied the charges against her.
by Mari Winn Taylor
I had a telephone conversation with Emma France on November 26, 2007. She's 95, but you'd not know it. It was like talking to my late Dad but with a rosy glow. He passed away when he was 93. While talking to Dad most of the time brought out his grumpy, negative side to life, talking to Emma revealed a lighthearted personality. She punctuated most of her thoughts with a little laugh. Emma is living independently in sunny California, near the Arizona border, she told me; we agreed that it's easier to have a positive outlook on life when one is not freezing to death.
Unlike Emma, Dad was a Newton County resident and also unlike Emma, Dad was not willing to give away a dime without a fight. Giving away money allegedly is what got Emma, a former resident of Carthage, in trouble. While it didn't become entirely clear to whom the money was given--at one time she apparently had $50,000 in a bank account, the proceeds of the sale of a house she owned, Emma claimed that it was within her right to give it away even if it meant throwing fistfuls of it on the street.
But, apparently Jeannette Clem, a vice president/cashier at the Southwest Missouri Bank in Carthage thought otherwise. Emma said she had befriended Clem at the bank and confided in her.
As an aside, when we were talking about the weather, Emma said that she used to walk to the bank from her apartment. And last winter...remember that she was 94...after a storm she remembers taking her cane and walking on ice to the bank. "When you're scared, you slide," she said. And during the same wintry weather she remembers that her neighbors wouldn't venture outside to get their mail. She got it for them, she said.
Emma's friendship with Clem ended last May when Rita Hunter, public administrator for Jasper County, set in motion the legal procedure to have Emma declared incompetent, naming herself personal representative/conservator of Emma's estate. Preliminary documents that the Joplin Independent has do not show any monies left in a SWB account and because Emma also has seen no documentation she thinks that "part of the money was scammed" and this time not by her involvement.
Emma remembers clearly what happened on May 16, 2007 when she was supposed to go to court. She says nobody was there to take her. She says she even asked "the girl at the bank."
Emma was represented by a court-appointed counsel, otherwise known as an guardian ad litem, but no testimony was offered suggesting that Emma was capable of taking care of her own affairs. Instead Judge David B. Mouton in what appeared to be a very short probate trial signed away her free will.
The court found that she was incapacitated by reason of dementia and depression to the extent that she is unable to receive and evaluate further information or communicate decisions so that she lacks the capacity to meet all of the essential requirements for food, clothing, shelter, safety, and other care such that serious physical injury, illness or disease is likely to occur and, of course, that she "lacks the ability to manage all of her financial resources."
Shannon McKinney, guardian ad litem lawyer, was awarded $100.00 (based on hourly charges, you know that court trial was short), and Emma was stripped of her humanity, in her words, by a "blindsided judge." The findings also prohibited her from voting, entering into commercial contracts and operating a motor vehicle and that Hunter be appointed her guardian and conservator and serve without bond or publication.
While appearing not to have seen any documentation from a doctor attesting to her incompetence. Emma remembers going to a doctor in Galena, KS who asked her a few questions in a brief interview. She thought he was a chiropractor by trade. She also accused Hunter of having her picked up against her will during one of her walks and taken to the hospital for a 14-day evaluation. During that time she claims that she was not given a bath nor a change of clothes. The records suggest that she was admitted to Generations, the geriatric psychiatric unit at McCune Brooks Hospital in Carthage.
Emma did see an expense report submitted by Hunter dated "01/01/1950 (sic) To 09/30/2007" in which Hunter claims a total of $3,457.50 in expenses charged to Emma's estate related in part to Hunter's communication with social workers, financial officials, Emma's daughter, and law enforcement agents. Hunter also charged for making up the report that showed that Emma had a total net worth of $7,618.15 and that included almost $4,000 in pre-planned funeral expense, not hard cash. So, after deducting the expenses of the public administrator from the amount of Emma's money she had under her control, she was left with a negative balance...that is without adding in the funds from a investment account that didn't appear in the initial accounting. And Hunter wanted that money.
Refusing to sign over her rights as joint tenant to the previously discovered investment account, Emma's daughter, Delores Forste claims that Hunter threatened her with imprisonment. Hunter carried through with her threat when three deputies from the San Berdu, CA Sheriff's Department arrested Forste on a warrant from Dean Dankleson's office in Jasper County, MO. She currently is incarcerated in the San Bernardino jail awaiting extradition from California to Missouri where she faces charges of kidnapping her mother, interference with custody and financial exploitation.
In her daughter's defense, Emma says that she was not kidnapped, that nothing in the court documents specifically said that she couldn't leave the state. After visiting her grandchildren in Colorado and believing Hunter's threat that she might have to live in a room with a cot and a toilet until she died, Emma chose to return with her daughter to California. As for the charge of financial exploitation, Emma said that her daughter spent some of her own money to pay her rent in an attempt to retrieve her mother's possessions.
"Rite Hunturn (sic) has my clothes and my kitchen stuff," she lamented. "How can she give it away?"
She said that she initially didn't want to leave her friends in Carthage and that was where she had her burial plot. As for her decision to live in California, "I want to be here for another 10-15 years," Emma told me after admitting that she should have joined her daughter in California two years ago.
"As long as I can walk, I don't need doctors," she admitted. She said she just took vitamins and pills for high blood pressure and that she walks where she now lives as often as she can for over a mile at a time and without the fear of being picked up. "If I don't walk, something is missing," she told me, "like one of my chores."
She also hopes that her daughter will be released soon. "She didn't do nothing they say she did," Emma reiterated. "Rite Huntern figured out a way to get her to go to jail. Everything's going crazy anymore," she finally replied in thinking about the times in which we now all live.